Malvinas dispute 'will only end when Argentina has full, definitive possession of the Islands', insists Puricelli
Friday, May 3rd 2013 - 05:44 UTC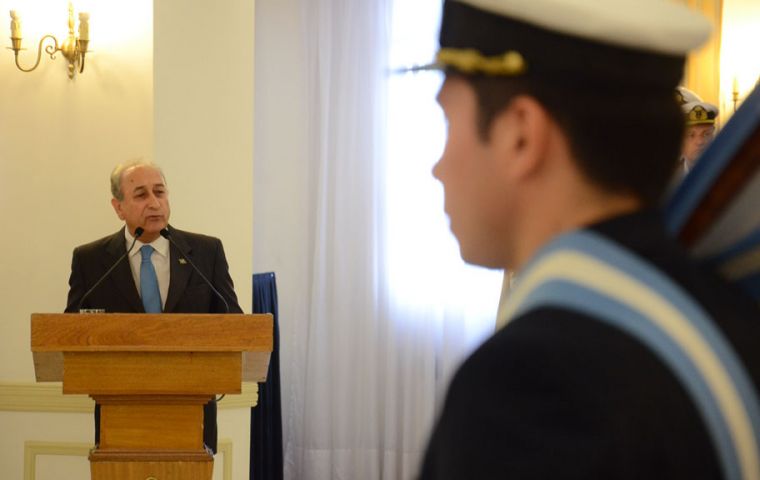 The Malvinas cause will only come to an end when Argentina has definitive possession of the Islands, said Argentine defence minister Arturo Puricelli during a military ceremony to remember the 31st anniversary of the loss of cruiser 'General Belgrano", during the Falklands' conflict torpedoed on 2 May 1982 by a Royal Navy submersible with the loss of 323 lives.
"The Malvinas cause is the symbol of national unity and will only come to an end when Argentina has the definitive and full possession of the Islands" emphasized Puricelli adding that President Cristina Fernandez "is prepared to exhaust all resources for the definitive return of the Malvinas and South Atlantic Islands to national territory from where they should have never been stripped".
The Argentine defence minister on Wednesday, May first, when the Air Force remembered the 31st anniversary of its 'baptism of fire' on engaging the British Task Force, used similar words to express that the Malvinas dispute will not be over until Argentina has full and definitive possession of the Malvinas and the Argentine flag flies in the Islands.
Puricelli reiterated the government's commitment to honour the national cause that all the Argentine people have raised and underlined that the effort from the crew of the General Belgrano "has mobilized Argentina so that never again we have these events and adversities which today we are commemorating".
The ceremony took place at mid-day in the Libertad Building, seat of the Argentine Navy next to naval and other military personnel, government officials, Malvinas veterans and former crew members and relatives from the sunken cruiser.
The first to speak was Argentine navy captain and war veteran Gustavo Castillo, who was on the vessel having a snack in the mess room when she was torpedoed. "The most painful order from the cruiser's captain was to tell the crew to abandon ship".
"Immediately the vessel began to list, and fire broke out. By then many members of the crew had died or where desperate in the water", said Castillo. It was only in the evening of that May 2 that rescue vessels turned up and operations continued all night long.
"The final balance was 770 rescued and 323 who died sacrificing their lives for the fatherland". At the end of the ceremony survivors from the sinking and belonging to the Civil Association Cruiser 'General Belgrano' said they were grateful to President Cristina Fernandez for publicly stating last year that the sinking of the vessel was a "war crime" but also asked for action.
"We are grateful to the President for having declared the sinking a war crime and we are asking her to represent us and justice be done", said Castillo in reference to survivors desire that the Argentina formally requests the UN Tribunal to declare it a war crimes.