Bolivia full incorporation to Mercosur now rests on legislative approval from other members
Monday, May 6th 2013 - 05:18 UTC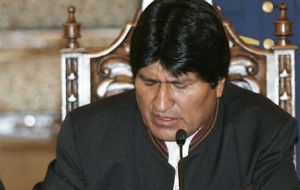 Bolivia has completed the presentation of its Mercosur incorporation protocol, which opens the way for the parliaments of the different member-countries to begin considering and ratifying her full membership. Once completed Bolivia becomes the sixth full member next to Argentina, Brazil, Paraguay, Uruguay and Venezuela.
In a short release delivered from Montevideo, Mercosur Secretariat's seat, the Bolivian foreign office said that the event took place last week during the block's coordination meeting which established the timetable for the incorporation of Bolivia, and for the different chapters to be completed in the next 180 days when it should become effective.
By then Bolivia must have ready the timetable for the adoption of the norms code belonging to the trade block and another referred to the common external tariff which includes exceptions and the Mercosur origin-rule regime.
Another area to be defined is conditions for negotiations with third countries or group of countries for the incorporation of Bolivia, in line with the international instruments and accords agreed by the rest of the Mercosur members.
To achieve these objectives Mercosur agreed to create four work groups, one of trade and tariffs; another on relations with third blocks; a third on incorporation of norms and regulations, and finally another in charge of functioning and structure of the block, all of which are scheduled to meet in June in Montevideo.
With the presentation of the protocol, Bolivia is entitled to participate in all of Mercosur meetings and in the next presidential summit, June 28.
President Evo Morales signed last 7 December during the Mercosur summit in Brasilia the Adhesion protocol for Bolivia.