Petrobras finds 'good quality' oil in the sub-salt area of the Santos Basin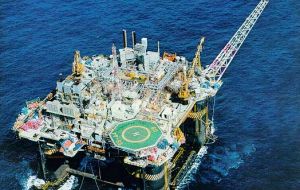 Brazil's state-run oil company Petrobras found "good quality" oil in a sub-salt area of the offshore Santos Basin, one of the world's most promising oil frontiers, according to a securities filing by Petrobras on Tuesday.
The oil, at 26 degrees on the American Petroleum Institute (API) scale, was found at a depth of 2,266 meters located about 235 kilometres off the coast of the state of Rio de Janeiro.
According to the API scale, 26 degrees is a medium grade of crude, easier to refine and more valuable than Petrobras' mostly heavy oil production but less valuable than light crude benchmarks such as Brent. The lower the API grade the heavier the oil.
The discovery was made near the giant Iara discovery, which holds an estimated 4 billion barrels of crude and natural gas equivalent and is owned by Petrobras, BG Group Plc, and Portugal's Galp Energia SGPS SA.
The new oil was found in an offshore area that Petrobras received as part of a September 2010 oil-for-stock swap with the Brazilian government. The swap was part of a 70 billion dollars sale of stock to government and private investors, the largest stock sale in world history.
Petrobras, which accounts for 90% of Brazil's oil and gas output, has been criticized for its slow increase in output since the discovery of massive sub-salt oil fields off the coast in 2007.
Petrobras has also seen its company value and shares drop as the government has put a cap on fuel prices. Brazil short of refining capacity must import fuels and has difficulties meeting its financial targets.
The well, owned by Petrobras, was drilled by the Cerrado drill-ship owned by Brazil's Schahin Group.
In related oil news BP is selling its substantial stake in one of 14 oil interests in Brazil as part of a global portfolio optimization program, the company said. BP agreed to sell its 60% interest in the Polvo oil field in shallow waters offshore from Rio de Janeiro to Brazilian HRT Oil & Gas Ltda, a subsidiary of HRT Participacoes em Petroleo S.A., for 135 million dollars cash. The other 40% stake in the field is owned by Danish energy major Maersk.
Commercial production at the field began in 2007 and is run by BP since it bought the field from Devon Energy. The field produces about 13,000 barrels of oil daily with BP taking a 60% share.
BP said the deal was part of its global optimization program and expects to close it in the second half of 2013, subject to Brazilian regulatory approval.
"Over the past two years BP has built a significant portfolio of upstream interests in Brazil which offer long-term growth potential," BP Brazil President Guillermo Quintero said. "We are now actively engaged in exploring this new acreage".
Quintero said the sale "is part of our ongoing global portfolio optimization as we reposition the company for long-term growth".
BP has interests in 14 exploration and production blocks in Brazil. It purchased interests in 10 exploration and production blocks, including the shallow-water Polvo field, from Devon Energy in 2011 and farmed into four deep-water blocks operated by Brazilian energy multinational Petrobras a year later.
Despite the sale BP retains significant interests in Brazilian energy sector, where it began operations in 1957. BP Energy do Brasil is one of four BP businesses in the country, Biocombustive is dealing in bio-fuels, Air BP trades in aviation fuel and Castrol handles lubricants.