Gibraltar 'will never be Spanish' and will enjoy full self-government says Chief Minister Picardo
Tuesday, May 21st 2013 - 00:29 UTC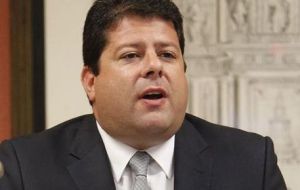 Chief Minister Fabian Picardo has told German readers of Frankfurter Allegmeine Zeitung that he is firmly convinced that Gibraltar will never be Spanish because today's Europe is about the people rather than the states.
One of the leading German newspapers Frankfurter Allegmeine Zeitung carried an extensive interview with the Chief Minister, by the paper's correspondent in Spain, Leo Wieland.
Picardo, speaking to the newspaper when in Madrid, says the will of the people counts and he would expect a mature democracy such as Spain to respect that.
Despite this, Mr Picardo laments that the attitude of the present Spanish conservative Government is not as forthcoming as that of the previous Socialist one, adding that there is no dialogue because Spain withdrew from the Trilateral Forum.
Mr Picardo also told the German newspaper that Gibraltar's economy is booming like hardly any other in the European Union. He explains that Gibraltar is already the Silicon Valley of online gaming and aspires to become the Silicon Valley for financial transactions in Europe.
The world's largest companies are resident on the Rock because Gibraltar provides strict control and security, he says. He added that that Gibraltar has OECD approval and cannot be classified as a Tax Haven.
"Gibraltar already has Tax Information Agreements with many countries", said Picardo, adding that the Rock seeks the right to self-determination and is striving for a tailor-made solution which allows a maximum of self-government under the British Crown.