Two suspects of the Buenos Aires AMIA bombing, presidential candidate in Iran
Friday, May 24th 2013 - 06:46 UTC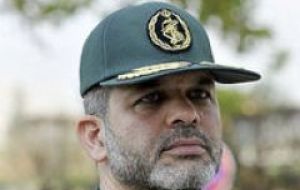 Two suspects in the bombing of the AMIA Jewish centre in Buenos Aires are candidates in Iran's presidential election. Mohsen Rezai and Ali Akbar Velayati, who are believed to have planned the 1994 attack, were among the eight candidates approved for the June 14 election by Iran's Guardian Council to succeed Mahmoud Ahmadinejad.
The Iranian constitution bars Ahmadinejad from seeking re-election.
Rezai is under an international arrest warrant, or red notice, from the Interpol international police agency.
Argentina has accused the Iranian government of masterminding and directing the bombing, which killed 85 and injured 300, and the Lebanon-based terror group Hezbollah of carrying it out. No arrests have been made in the case.
Six Iranians have been on Interpol's most wanted list since 2007 in connection with the bombing, including the current defence minister, Gen. Ahmed Vahidi.

Meanwhile, the Argentine Foreign Ministry said Tuesday in a statement that Argentina has received "no formal notification" about Iran's official approval of an agreement for the two countries to jointly probe the AMIA attack.
Iran's business commissioner to Buenos Aires, Ali Pakdaman, had said a day earlier that Ahmadinejad officially approved the agreement to create a Truth Commission investigating the bombing.
The statement issued by the office headed by Foreign Minister Hector Timerman said that only when the formal notification is received by the foreign ministries of Argentina and Iran will "the deal be put into operation".
Iran also is believed to be behind the 1992 car bombing that destroyed the Israeli Embassy in Buenos Aires, killing 29 and injuring 242.
Contrary to Argentina where the controversial memorandum strongly rejected by the Jewish community, was passed by congress after a long acrimonious debate, in Iran it only carried the approval signature of a much discredited Ahmadinejad.