President Mujica to meet Pope Francis
Thursday, May 30th 2013 - 00:10 UTC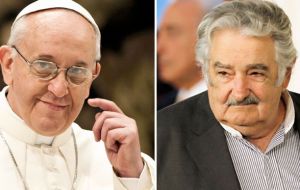 On Saturday June 1st the President of Uruguay, José Mujica, will meet Pope Francis. Mujica has been quoted as saying he does not believe in the Catholic Church but he "admires" it and that he hopes to open avenues of cooperation to advance on social issues in his country.
Mujica did not attend the Inaugural Mass of the Pope's reign, stating that he comes from a secular country and does not believe in God. "Although I am approaching death I still cannot believe in God," said the 78 year-old president to Radio Cero before embarking on a two-week international tour that will take him to China, Spain and Italy.
He shall visit the Argentine Pope with whom he has been compared due to the austerity and simplicity evinced by both. Mujica said that, initially, they only shared a common passion for tango and mate. Known as the world's poorest president, he leads a modest life as he continues to live on the same farm located in a poor area in the outskirts of Montevideo.
Mujica has said he respects believers and the Catholic Church "because it is one of the two axes of Latin America" and considers it is important to have an open dialogue with the Vatican as having "a Latin American Pope, a man that could be your next door neighbour is pretty rare."
Political scientist Ignacio Zuasnabar considered that the distance Mujica initially wanted to set up could have been due to "the kind of information that initially came to Uruguay" which said that Cardinal Jorge Mario Bergoglio had coalesced with Argentina's military dictatorship, information which turned out to be malicious slander. Zuasnabar also stressed that Uruguay is a "very secular" country when compared to the rest of Latin America.

Mujica's international tour has a strong economic ring to it but the visit to the Vatican "has a different dimension," explained Foreign Minister Luis Almagro. "The Pope is a man of the River Plate and has a social vision similar to that of the President. This can open up many possibilities for joint work between the national government and the Church."
Mujica's visit to the Holy See comes at a time when Uruguay has passed two controversial laws that had strong opposition from the Church: Equalitarian Marriage, which will allow gay couples to wed as of August 3rd, and the law that legalized abortion, which Uruguayans will decide if it is subject to a referendum on June 23rd .