Xi Jinping visits Mexico to try and improve political and trade cooperation
Monday, June 3rd 2013 - 05:13 UTC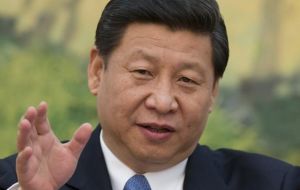 The leaders of Mexico and China will meet for the second time in two months this week, a sign of deepening cooperation, even as the Latin American nation seeks to close a huge trade deficit. Chinese President Xi Jinping will be treated to a lavish two-day state visit in Mexico that begins on Tuesday, with an event at the Campo Marte military field with President Enrique Peña Nieto and a speech to Congress.
Peña Nieto already met with Xi when he visited China in April, four months after taking office in a trip that observers say shows his desire to cast aside old trade rivalries in favour of a closer partnership.
"There is a new dynamic in the relationship between the two countries" said Mexican Deputy Foreign Minister Carlos de Icaza.
The arrival of two new presidents - Xi took office in March - "opens an opportunity to strengthen political dialogue and find ways to ensure that the flow of trade and investments between both nations is more balanced," he said.
The two sides are expected to sign 10 agreements in fields such as trade, investments, infrastructure, science and education. But Mexico also wants to narrow a gaping trade deficit heavily tilted in China's favour: Mexico imported 57 billion dollars worth of Chinese imports last year while exporting just 5.7 billion, according to the Mexican central bank.
"We are looking for ways to overcome the trade imbalance between China and Mexico and work together to create the conditions for these trade flows to be more balanced," de Icaza said.
Xi, who will head to Mexico after visiting Trinidad and Tobago and Costa Rica, suggested that China was willing to work with Mexico to reduce the gap.
"The Chinese side has never intentionally sought surplus in bilateral trade," he told China's Xinhua news agency.
China, he added, "is ready to join in efforts with the Mexican side to tap into potential, expand the scale and optimize the structure of bilateral trade and seek balance of trade in an active way."
Xi even indicated that China was willing to discuss the possibility of negotiating a free trade deal with Mexico.
China has expanded its trade and investment ties with Latin America in recent years as the world's second biggest economy taps into the region's mineral and oil wealth to fuel its economic growth. Brazil and Mexico, Latin America's first and second biggest economies, are China's two biggest clients in the region.
The recent shift in the relationship, with back-to-back meetings between the two presidents, was unexpected, said Enrique Dussel, head of the China-Mexico Studies Centre at the National Autonomous University of Mexico (UNAM).
"We hadn't seen such intensity in bilateral relations in decades, especially when considering how bad relations were in the past few years" Dussel revealed.
But Chinese-Mexican trade relations have been tumultuous in the past, with Mexico accusing Beijing last year of making unfair subsidies to the textile industry.
Last month, the resort city of Cancun rejected a building permit for a massive expo centre, named Dragon Mart Cancun, which would have showcased Chinese goods in the tourist town.
Though China's rising wages has made Mexico more attractive to investors, the Latin American nation can no longer compete with the Asian giant, Dussel said.
Ten years ago, the two nations produced two million cars per year. Today, Mexico produced 2.5 million compared to 20 million in China, Dussel said. While the two nations have been rivals for the US market, Mexico has become an exporter of Chinese products and the two nations could deepen that partnership, analysts said.