Chile in US visa waiver program; Obama receives Piñera at the White House
Tuesday, June 4th 2013 - 06:07 UTC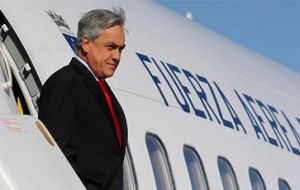 Chilean citizens have been chosen for the US Visa Waiver program, Chilean president Sebastián Piñera announced on Monday in Washington. He is scheduled to meet President Barack Obama at the White House on Tuesday to talk trade and other regional issues.
"We have made important progress toward winning Chileans permission to visit the United States for up to 90 days without a visa," Sebastian Piñera said during a press conference in Washington. He is currently on a seven day tour that took him to Canada, the US and later to El Salvador and Panama.
Chile's acceptance into the program that already includes some 30 countries "will facilitate tourism and relations" with the United States, Piñera said.
Elimination of the visa requirement for Chilean citizens who wish to visit the United States for a maximum of 90 days "requires compliance with conditions that Chile has already been complying with," Piñera said. Among them, the president mentioned the recent signing of pacts by Chile to take an active part in fighting terrorism and organized crime.
However still pending is a visit to Chile by a delegation from the US Department of Homeland Security to certify that the country is complying with all the requirements needed to enter into the Visa Waiver. More than 200.000 Chileans currently visit the US every year.
Piñera in his four-country visit is accompanied by his Foreign Affairs Minister Alfredo Moreno, and Defence Minister Rodrigo Hinzpeter.
Before reaching Washington, Piñera visited Canada to meet with Prime Minister Stephen Harper to discuss "strengthening economic and political ties" laid out in the 2007 partnership agreement signed by the two countries.
In Washington the Chilean leader made the round of interviews with the heads of the International Monetary Fund and the World Bank, Christine Lagarde and Jim Yong Kim. On Monday he met with members of the Foreign Affairs Committee in the US Congress as well as with Secretary of State John Kerry.
With President Obama, Piñera is expected to discuss among other topics free trade in the region and the recent request from the US to join as an observer of the Pacific Alliance which includes Chile, Colombia, Peru and Mexico.
Piñera rounds out his trip with short visits to Mauricio Funes, president of El Salvador, and Ricardo Martinelli, president of Panama. In Panama, the two leaders will visit the Canal to discuss current expansion plans. Chile is one of the canal's primary users due to its large export industry.