Uruguayan forestry company buys turbines for a 90 MW wind farm
Tuesday, June 4th 2013 - 05:07 UTC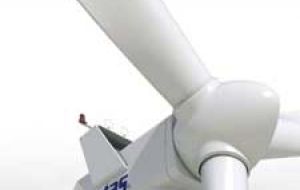 Denmark's Vestas Wind Systems wind-turbine maker received a 90-megawatt turbine order from Compañia Forestal Uruguaya SA for the Pintado power plant in south centre Uruguay. The 30 3-megawatt turbines project will be serviced by the company for 15 years and the farm is expected to be operational by the second quarter of next year.
The contract for the Pintado wind power plant comprises delivery, installation and commissioning of the turbines, a VestasOnline Business SCADA system as well as a 15-year Active Management Output (AOM) 5000 service agreement. The AOM 5000 service package offers customers assured performance, helping them to avoid unforeseen operational costs.
The order has been placed by Luz de Mar, Luz de Loma and Luz de Rio, special purpose companies owned by the shareholders of Compañia Forestal Uruguaya S.A. (COFUSA). COFUSA is a forestry company committed to growing, manufacturing and marketing timber products. COFUSA has been engaged in planting and forest management since 1989, owning 30,000 hectares of plantations.
"After long negotiations, we are confident that Vestas, the global leader in wind energy solutions, is the reliable partner for our project in Pintado. We have found the necessary technology, experience and knowledge for our project. The V112-3.0MW turbine allows an efficient energy production and gives us justified return on investment," says Juan Otegui, president of COFUSA. "We have full confidence in the business case of our Pintado project," he concludes.
"It is a pleasure for us to announce the first contract with COFUSA's shareholders. More and more companies around the world are increasingly seeing renewable energy as a solid business opportunity and as a way of contributing to widening the countries' energy mix" said Miguel Picardo Troyano, VP Vestas South America (exc. Brazil).
The Pintado wind power plant project will have an estimated annual production of more than 381,000MWh per year, which will save the environment from almost 117,000 tons of CO2 emissions on an annual basis.
In the next five years Uruguay is planning a drastic cut in its dependency on imported oil, and wind generation is expected to jump to almost 15% of the country's total energy production for electricity.