Argentina's energy imports soar 47% during April propped by gas purchases
Thursday, June 6th 2013 - 22:33 UTC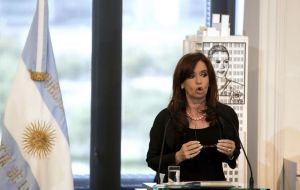 Argentina's energy imports during April soared 47.6% over a year ago reported the government mainly because of massive natural gas purchases for the coming winter. The bill in April climbed to 733 million dollars from 384 million a year ago, while Enarsa the government corporation that has the monopoly of LNG imports spent 438 million this year and 259 million in April 2012.
Given the sustained demand growth and persistent fall in domestic production of hydrocarbons Argentina has been forced to spend hundreds of millions of dollars in gas imports. However this has become a major challenge for the government of President Cristina Fernandez that isolated from international money markets because of pending litigations from the 2002 sovereign default, must appeal to a strong trade surplus to finance imports.
Last year Cristina Fernandez nationalized a majority stake in YPF, the country's main oil and gas company, and has since launched an ambitious program to increase production. So far YPF under new management has managed to contain the fall in the production rhythm.
The Argentine government admitted that daily oil production dropped 3.8% during April, in line with the sliding decline of recent years, but at a lesser pace. Natural gas on the other hand increased production according to stats from the Energy Secretariat.
Hydrocarbons production has been falling in Argentina for several years mainly because of the maturity of its fields, but also given the absence of investments in the sector since the governments of Nestor Kirchner and Cristina Fernandez froze the price of oil and gas at the well head. Last May Cristina Fernandez celebrated with a great show and fireworks the ten years of Kirchnerism.
During April daily production of crude was 84.560 cubic metres, below the 87.905 cubic metres of a year ago and also less than in March, 88.052. Gas production in April was 112.5 million cubic metres per day, below the 122.4 million of April 2012 and 115.3 million of last March, according to Energy Secretariat stats.