Falklands turns out to commemorate Liberation Day and pay tribute to British Forces
Friday, June 14th 2013 - 20:08 UTC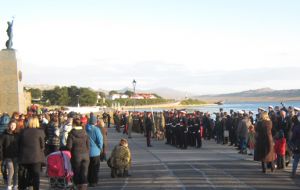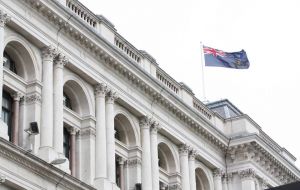 The most important date in the recent history of the Falkland Islands was commemorated on Friday, June 14 by Falkland Islanders and veterans of the 1982 war.
For Islanders, the first thought upon waking this morning, almost certainly would have related to the freedom that they enjoy today because of the sacrifices made by British Forces thirty one years ago, and an overwhelming sense of gratitude to those members of the armed forces who allowed it to be this way.
June 14th, marks the anniversary of the Islander's Liberation from the unwelcome Argentine occupation, which lasted for 74 harrowing days from April 2nd 1982.
This year in the capital Stanley, as in other years, a service of remembrance was held in the Christ Church Cathedral in the morning followed by a parade and act of remembrance at the Liberation Monument.
On this unusually calm, sunny, winter's day a crowd of more than two-hundred people gathered to take part in the outdoor service near the seafront and to watch the parade. Each year this particular event draws a large crowd, despite the fact that many of those attending were not even born at the time of the war. Parents teach their children to respect the sacrifices that were made to ensure that each and every Islander can live the life of his or her choosing and that lesson is not lost on the younger generation.
Many young children attended today's service, and they too will have learnt the importance of this day to those who call themselves "Falkland Islanders".
The marching troops on this Friday comprised members of all three branches of the British Armed Forces and a detachment of soldiers from the Falkland Islands Defence Force. The Royal British Legion and Associations and Youth Groups will be in attendance together with veterans from 1982.
At the Liberation Monument following prayers, wreathes were laid beginning with Governor Nigel Haywood followed by MLA Roger Edwards, Chief of Staff, Veteran Associations, relatives and Islanders.
Following the conclusion of the parade and ceremony at the Liberation Monument, the Town Hall was opened up for a public reception for all to attend. This reception is always an opportunity for everyone to remember the past, but also to look forward to the bright future, which the Falklands is facing thanks to the sacrifices made thirty one years ago.
Commemorations and celebrations will continue in Stanley and the Camp (countryside) for the rest of the day, and most likely into the small hours of Saturday morning.