British tapped phones and computers of G20 summit held in London, claims The Guardian
Tuesday, June 18th 2013 - 02:45 UTC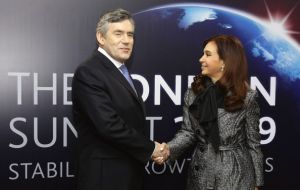 Foreign politicians could have had their telephones and computers intercepted in G20 summit meetings in London in 2009, a group to which Argentina belongs, according to an exclusive report carried out by British newspaper The Guardian after it gained access to certain documents that could cause problems for the British government.
This controversial news has broken out as Britain prepares to host a G8 summit on Monday in Northern Ireland. All of the G8 countries participated in the 2009 meetings and, according to the report, were "systematically spied on."
The news raises questions over the roll of the Government Communication Headquarters (GCHQ), believed to have tapped telephone calls, and its US sister organization, the National Security Agency.
One of these meetings is remembered for Barack Obama snubbing Argentina's Cristina Fernández, when the latter made a special effort to arrive early to greet the US president, but when she held out her hand he strangely walked straight past.
At another meeting attended by the Argentine president the UK Prime Minister Gordon Brown opened proceedings, flanked by Obama.
This was in April of 2009, during the 27-year anniversary of the war breaking out between Britain and Argentina. CFK made her presence felt, paying tribute to the Argentine soldiers killed in the Falklands' war, a move unexpected by everyone as she was the first president of Argentina to commemorate the conflict on British soil.
The Guardian reports on members' conversations being monitored at that time. It also claims that fake Internet cafes were set up where they used an email interception programme and key-logging software to spy on delegates' use of computers.
There have often been rumours of espionage taking place at international conferences of this type, but until now nothing has been confirmed by any conclusive evidence.
The documents suggest that the operation was sanctioned in principle at a senior level in the government of the then prime minister, Gordon Brown, and that intelligence, including briefings for visiting delegates, was passed to British ministers.
A briefing paper dated 20 January 2009 records advice given by GCHQ officials to their director, Sir Iain Lobban, who was planning to meet the then Foreign Secretary, David Miliband. The officials summarized Brown's aims for the meeting of G20 heads of state due to begin on 2 April, which was attempting to deal with the economic aftermath of the 2008 banking crisis.
The briefing paper added: "The GCHQ intent is to ensure that intelligence relevant to HMG's desired outcomes for its presidency of the G20 reaches customers at the right time and in a form which allows them to make full use of it." Two documents explicitly refer to the intelligence product being passed to "ministers".