C24 'no longer relevant' and is 'insulting' to describe BOT/London relations as colonial
Thursday, June 20th 2013 - 16:40 UTC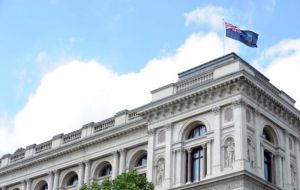 The Decolonization Committee is no longer relevant and to describe the relation of British Overseas Territories with the UK as colonial is insulting both for the BOT and London, said a Foreign Office spokeswoman following Thursday session when the Falklands/Malvinas case was debated at the UN C24.
"Our view is that the Decolonisation Committee no longer has a relevant role to play with respect to British Overseas Territories. To describe our relationship with them as colonial is insulting to both them and us. We are committed to a modern relationship based on partnership and shared values.
"The people of each Territory have the right to choose whether or not to remain a British Overseas Territory. Any decision to sever the constitutional link between the UK and a Territory should be on the basis of the clear and constitutionally expressed wish of the people themselves. We believe that the UN Decolonisation Committee should de-list Territories where this is their wish.
"In the case of the Falkland Islands, the people there are British and wish to remain so - as clearly demonstrated by the 99.8% YES vote in the March referendum. The UK has no doubt about its sovereignty over the Falkland Islands and surrounding maritime areas, or about the Falkland Islanders' right to decide their own future: the right of self-determination as enshrined in the UN Charter and the International Covenant on Civil and Political Rights. There can be no negotiations on the sovereignty of the Falkland Islands unless and until the Islanders so wish."