Falklands' people happy exercising self-determination and with 'current relationship with UK'
Thursday, June 20th 2013 - 16:19 UTC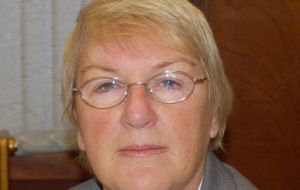 Falkland Islands representatives told the Special Decolonization Committee that under UN resolutions non self governing territories are entitled to exercise self determination and self government and C24 does not have the responsibility to judge on that right. Likewise the Falklands' representatives again invited C24 to visit the Islands (seventh time) but with no reply.
Members of the elected Falklands' Legislative Assembly, Mike Summers and Sharon Halford made their presentations on Thursday morning before the UN Decolonization committee that addressed the Falklands/Malvinas dispute.
Speaking first, MLA Halford drew attention to the fact that under the auspices of the United Nations General Assembly Resolution 2625 (XXV) of 1970, people from Non Self Governing Territories can exercise self-determination and reach a full measure of Self Government through any political status, as long as it is freely determined by a people. She said:
"With this in mind the people of the Falkland Islands exercised their right to self-determination in March this year when a referendum was held to seek the views of the people as to the way forward.
92% of the electorate voted and of these, an overwhelming 99.8% voted to remain an Overseas Territory of the United Kingdom. Only 3 people voted for some alternative political status. The message is clear. We, the people of the Falklands, are happy with our current relationship with the UK. It is not an anachronistic colonial situation as characterised by Argentina, but a modern relationship where the UK listens to our wishes and we are responsible for our own internal self-government."
Speaking second, MLA Summers reminded the Committee of their responsibilities, saying that it is not the Committee's "responsibility to judge whether or not any particular territory on the C-24 list is entitled to self-determination, as "according to UN Resolutions 1514 and 1654 every territory on the list is entitled to self-determination.
So to argue here, as certain members do, that Falkland Islanders do not have the right to self-determination, is to contradict the founding principles of this Committee."
"We have formally invited the Committee of the C-24 to send a visiting mission to the Falkland Islands on at least six occasions before. We have not even had the courtesy of a response.
In my capacity as a petitioner, and as a representative of my Government, I now formally extend yet another invitation to the Committee to visit the Falkland Islands. Come to the Islands and see who we are and how we live, and respect our wishes. We have been assured that the UK as administering power has no objections to this invitation, and nor do we or the UK set any conditions on the makeup of the delegation. If Argentina objects it can only be that it is afraid of the truth, of openness and transparency, and of the power of basic human rights."
Follow MLA Sharon Halford and Mike Summers' speeches:
http://www.falklands.gov.fk/assets/C24-Speech-2013-SHalford-Eng.pdf
http://www.falklands.gov.fk/assets/C24-Speech-2013-MSummers-Eng.pdf