Falklands: "last thing we want is religion inserted in the dispute"
Friday, June 21st 2013 - 06:26 UTC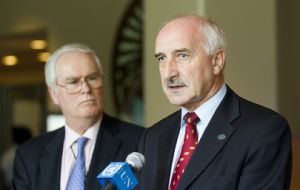 A top Falkland Islands' politician and Britain's UN envoy shrugged off the idea of the Pope intervening in the long-running sovereignty dispute over the Falklands/Malvinas and South Atlantic islands, as was suggested at one point by Argentine President Cristina Fernandez.
"The last thing we need is religion inserted in this" said Michael Summers, a veteran Falklands legislator who was one of two petitioners and representatives at the UN decolonization committee.
"I certainly share the view that religion is unlikely to help solve this," added Britain's UN ambassador Mark Lyall Grant.
Even Argentina's Foreign Minister Hector Timerman did not explicitly embrace Vatican intervention though he said popes have "intervened in the past in several issues related to politics and geopolitics." He referred however to 1493 decrees by Pope Alexander VI that granted Spain the right to the lands of the Americas.
Argentina's President Cristina Fernandez earlier this year asked Argentine born Pope Francis to mediate in the dispute, but the Vatican officially rejected such an option.
Argentina and UK were involved in a bitter war in 1982 when Argentine military forces invaded the Falklands and occupied them for 74 days until they surrendered to a British Task Force sent to recover them.
Pope Francis, the first Latin American pontiff said in 2012 when he was archbishop of Buenos Aires that Britain had "usurped" the disputed islands from Argentina. In 2011, he said the islands were "ours," a view most Argentines share.
Foreign Minister Hector Timerman told reporters that London should engage in direct talks with Buenos Aires on the dispute. Lyall Grant said Britain was open to dialogue with Argentina, but only if the Falklanders are involved, a position Timerman dismissed.
"I am the foreign minister of Argentina" Timerman said. "I want to talk with the foreign minister of the United Kingdom". "Kings meet with kings, and queens meet with queens. Usually that is the way it works."
The UN decolonization committee as it has done for decades voted an annual resolution which called for a negotiated settlement to the dispute.
More information : Sir Mark Lyall Grant (United Kingdom), Michael Victor Summers OBE - Media Stakeout (20 June 2013)
Informal comments to the media by H.E. Sir Mark Lyall Grant, Permanent Representative of the United Kingdom to the UN, and Michael Victor Summers OBE, member of the Falklands Legislative Assembly