UK consolidates its position as world's second defense exporter after the US
Friday, June 21st 2013 - 16:54 UTC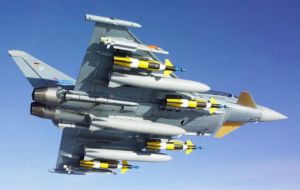 New figures published on Friday by the UK Trade and Investment Defense and Security Organization (UKTI DSO) show that UK defense exports totaled £8.8 billion over the past year, a rise of 62% from 2011 in a global market that grew by 45%. The results mean the UK maintains its position as the second most successful defense exporter after the United States.
As in 2011, the UK continues to benefit from a strong defense supply chain, which contributed to the success in 2012. Orders contributing to the strong results included Typhoon and Hawk aircraft. The Typhoon program alone supports an estimated 8,600 jobs in the UK, across companies including BAE Systems, Rolls-Royce and SELEX Galileo and their supply chains – with an estimated further 1,500 jobs dependent on export opportunities.
"This is welcome news for the UK Defense Industry, and demonstrates that they remain world leaders in an increasingly competitive global market place. The Ministry has continued to play a key supporting role in the promotion of defense equipment and services, recognizing that defense exports make a significant contribution to the government's growth agenda", said Philip Dunne, Minister for Defense, equipment and Technology.
He added the results "demonstrate the high regard in which our Armed Forces, and the equipment they use, are held by our allies and partner nations overseas".
The UK continues to capture 20% of the global defense export market. Maintaining this level and growing security exports to 5% by 2015 are the key targets for UKTI Defense & Security Organization. Last year's expansion in the defense sector was supported by UK export growth of 4% to £2.7 billion in the security sector, in a global market that grew by 3%.
Combined defense and security exports rose to £11.5 billion in 2012, up from £8 billion in 2011.
Commenting on the success Business Minister Michael Fallon said: "defense exports are helping to safeguard much needed high quality jobs in UK industry at a difficult time for the economy and these robust figures demonstrate Britain's ability to successfully compete in the global race".
Fallon pointed out that the UK government has pledged its support to the defense industry which has an outstanding record of export success with a proven ability to help UK exporters to win business overseas and achieve their international business potential.
Likewise these export results reflect the importance of the high technology sector and its contribution to advanced manufacturing trade. The UK's defense industrial base is rich in innovation, largely thanks to the vital contribution of smaller firms.
Finally the increase in the security sector reinforces a consistent picture of year on year growth in a highly competitive market. Growth is particularly strong in the cyber security sector which is critical to the UK's national security.