Pacific Alliance in a "marketing success" and no concern for Mercosur, says Brazil
Saturday, June 22nd 2013 - 05:51 UTC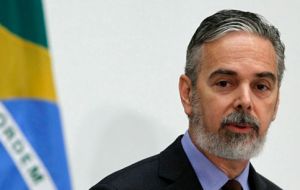 The Pacific Alliance is a 'marketing success' and does not represent a concern for Mercosur since it does not have the potential for physical integration as other blocks from the region, said Brazilian Foreign minister Antonio Patriota during a congressional hearing this week in Brasilia.
The Pacific Alliance was formally launched in June 2012 by Chile, Peru, Colombia and Mexico; the four countries most pro-business and supportive of free markets, economic integration and open to foreign investments. With a clear orientation to Asia, the alliance represents 36% of Latinamerica's GDP.
When the alliance took off it was seen as a more dynamic rival to Mercosur whose leading partners Argentina and Brazil have adopted policies to protect their markets, restrict imports and although preaching integration are increasingly interventionist in their economies. The alliance already exports 60% more than Mercosur.
"The Pacific Alliance goals won't materialize overnight; it is a marketing success; it is a new concept for the situation since the idea of free trade already exists and is extensive to all countries", said Patriota adding that the alliance "does not have the potential for physical integration as other blocks in the region".
"Mercosur is the most successful overall integration initiative in South America, a trade union where exports keep expanding" argued the Brazilian official who added the Alliance must not be seen as a threat for the regional integration.
"For Brazil an initiative such as the alliance or any other that contributes to the development of the region represents an opportunity to advance and must not be seen as a threat".
Finally Patriota rejected statements that Mercosur is suffering an "alleged paralysis" or has come out of fashion.
The Pacific alliance is in the process of incorporating a new associate Costa Rica, while Canada is also complying with the process from observer to full member. US Vice president Joe Biden has admitted Washington's interest in becoming an observer.
Guatemala, Panama, Uruguay, Spain, Japan, Australia and New Zealand figure as observers of the Pacific Alliance, and Uruguay has already announced, despite Brazilian warnings it has applied for full membership. Paraguay was admitted as observer during the latest summit held in Cali, Colombia.