Supreme Court Justice and anti-corruption champ has become symbol of Brazilian protests
Monday, June 24th 2013 - 08:24 UTC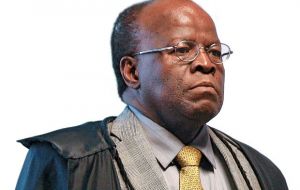 Joaquim Barbosa the black magistrate from Brazil's Supreme Court and who won national acknowledgement as inflexible with corruption cases has become the preferred candidate for 2014 presidential elections by the thousands of protestors who took to the streets these last two weeks.
A public opinion polls published over the weekend by the influential Folha de Sao Paulo shows that half of participants in the huge demonstrations in Sao Paulo, where protests took off and later spread to over a hundred cities, are concerned with corruption and the political system. Another 32% reject the increase in public transport fares which protestors have forced to be rolled back.
The Datafolha report also indicated that 30% of protestors in Sao Paulo would vote for Justice Joaquim Barbosa in the 2014 presidential elections, followed by 22% in support of Marina Silva, the environmentalist leader, who in the last presidential election collected a solid 20% of the ballot. The poll was done taking as reference 551 people participating in the protest marches.
Over a million people have turned out to the streets in a hundred Brazilian cities, originally to complain public transport fares, forcing President Dilma Rousseff to address the nation and remain in the country whilst cancelling an official state visit to Japan scheduled for this week.

Justice Barbosa became notorious as an inflexible magistrate during the corruption cases involving leaders of the ruling Workers Party and former president Lula da Silva closest aides who were sentenced over a major scheme called 'mensalao' or monthly payments, with government funds, to members of Congress in support of government sponsored legislation.
The case which was exposed in 2003/04 and reached the Supreme Court this year showed the extent to which corruption has spread in the political system but worse still how pressures from the Executive and Congress, and how the finest solicitors from Brazil manage to maintain their clients off the hook and jail.
Barbosa who is black and from an extremely humble home, managed to work his way up the Judiciary and has become an icon of anti-corruption and a symbol for the 200 million people country, where colour and poverty discrimination prevails, a majority are destitute and suffer the consequences from the worst national wealth distribution in the world.