Argentine indigenous people ask Francis to intercede before Cristina Fernandez
Tuesday, June 25th 2013 - 17:08 UTC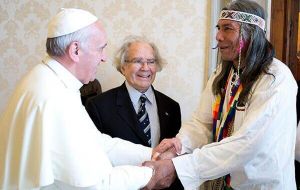 Leaders of an Argentine indigenous community together with Nobel Peace Prize Adolfo Perez Esquivel met on Monday with Pope Francis and requested he intercedes before Argentine president Cristina Fernandez so that she receives a delegation from the Qom community.
"We asked the Holy Father to intercede before the President so that we can talk with her about the indigenous peoples' problems" said Felix Diaz, leader of the Qoms.
"This (Monday) morning the Holy Father received in audience Mr. Adolfo Perez Esquivel, recipient of the 1980 Nobel Peace Prize, accompanying Mr. Felix Diaz, leader of the Qom ethnic tribe's "La Primavera" Community, with his wife Mrs. Amanda Asijak, and Fr. Francisco Nazar, vicar for the indigenous populations of the Diocese of Formosa, Argentina" said the official release from the Holy See.
"Mr. Diaz expressed his gratitude to the Holy Father for the audience and for what it means as an expression of interest and support. He related to Pope Francis the difficulties faced by the indigenous peoples of Argentina and Latin America, as well as his concerns for the protection of their rights, especially in regard to their territory and cultural identity" concluded the brief communiqué.
"The Pope was quite well informed about the lack of sufficient dialogue between Argentine officials and the indigenous peoples", revealed Qom leader Diaz.
"We didn't need to explain much, because not only was he informed but was aware of my 'criminal record' in the province of Formosa for defending the rights and the ancestral lands of my people", added Diaz.
"He is a very knowledgeable man with great interest in peace and world harmony, to build a better world, and was very much interested in including the plight of the indigenous peoples in his agenda".
The audience request was done by Nobel Prize Perez Esquivel who said "it was no mere chance that a Latinamerican Jesuit would be prepared to receive and listen to the indigenous peoples, the original inhabitants of our continent".
Feliz Diaz is also a delegate at the Argentine National Summit of Indigenous Peoples and Organizations, which is campaigning to expose the marginalization of indigenous communities by Argentine authorities.
The Qom community is currently in a conflict with the government of Formosa, which wants to take over some of the tribe's land to build a university campus and other 'facilities'.
The Qom community claims Formosa Governor Gildo Insfran, a close political ally of President Cristina Fernandez has launched an intimidation campaign which has included beating up of members of the tribe by local police, trumpeting charges, abuse of women and the death of two Qom adolescents beaten to death remain unsolved.