Piñera opens joint-largest wind-farm in the north of Chile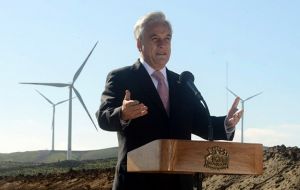 President Sebastian Piñera inaugurated Chile's joint-largest wind farm at an official ceremony. The 90MW Talinay East facility is owned by Italy's Enel Green Power and features 45 Vestas V100 2MW turbines in the country's central Coquimbo region, 400 kilometres north of Santiago.
Piñera said at the ceremony that Chile is making progress towards its energy goals by "approving almost 5000MW per year, 80% of which is clean renewable energy".
The head of state said he hopes to boost the clean power sector by way of interconnection of Chile's two major independent grid networks, construction of an "electric highway" of new transmission infrastructure and a new law regulating land use.
Talinay shares the crown as Chile's largest wind site with another Enel facility, Valle de los Vientos, which features an identical array of Vestas machines in the northern region of Antofagasta. The Talinay farm demanded an investment of 165 million dollars.
Enel acquired Talinay from Vestas last year. Previous owners of the project include Spain's Enhol and business conglomerate Grupo Phoenix. Up to 500MW of wind capacity is planned at future phases of the site.
According to Chilean official data last April, 67.8% energy was thermo-electric (37.9% from coal and 23.9% natural gas) and hydroelectric 31.3%.