After a rough year Cristina Fernandez names new top heads of the Armed Forces
Thursday, June 27th 2013 - 04:41 UTC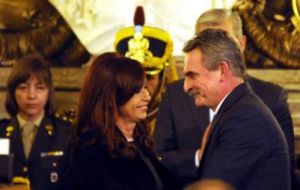 In a surprise move Argentine President Cristina Fernández replaced the top heads of the armed forces and appointed Brigadier General Luis María Carena as the new head of the Joint Chiefs of Staff. The changes announced on Wednesday come just a few weeks after former lawmaker Augstín Rossi was named new Defence minister.
Carena replaces Jorge Alberto Chevalier, and Division General César Milani will assume as Army Chief of Staff instead of Lieutenant General Luis Alberto Pozzi.
Rear Admiral Gastón Fernando Erice will replace Admiral Daniel Alberto Enrique Martín as the new navy's Chief of Staff while Mayor Brigadier Mario Miguel Callejo takes command of the Air Force.
The changes don't come as a surprise because the president had them in mind before removing Arturo Puricelli and sending him to Internal Security. Besides it was a tough twelve months with the injunction of the ARA Libertad in Ghana; the poor performance of the Navy and the total failure of this year's Antarctic campaign, among other issues.
President Cristina Fernandez and the new Minister of Defence Rossi thanked the leaving generals in an official document, where they expressed their gratitude "to those who accomplished in this time such important responsibilities, putting all their energy, their intelligence and capability to the service of the Homeland".
The document included a special mention for Brigadier General Chevalier "who accompanied us during the last decade, and was part of the first changes impulsed by Néstor Kirchner when he just took office".
However, this sudden change might be connected not only to Rossi's new position but with Nilda Garré, former Security minister, who left office a month ago.
Earlier today, the Kirchnerite officials tried to approve without success, Congress authorization for Garre's designation as the new ambassador in the Organization of Americans States (OAS). Opposition Senators managed to block a vote demanding some aspects of her assets statements were 'not clear'.