OAS Secretary General Expresses Deep Displeasure over Airplane Incident involving President Morales in Europe
Wednesday, July 3rd 2013 - 03:38 UTC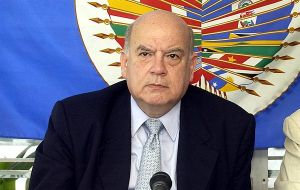 The Secretary General of the Organization of American States (OAS), José Miguel Insulza, expressed his deep displeasure with the decision of the aviation authorities of several European countries that denied the use of airspace to the plane carrying the President of the Plurinational State of Bolivia, Evo Morales, from Moscow to La Paz.
The leader of the hemispheric Organization said that in his opinion nothing justifies an act of such lack of respect for the highest authority of a country.
For that reason, said Insulza, the countries involved must give an explanation of the reasons why they took this decision, in particular as it endangered the life of the leader of a member country of the OAS.