Piscator incident: Spain says fishing vessel was operating eight miles outside Argentina's EEZ
Saturday, July 6th 2013 - 07:09 UTC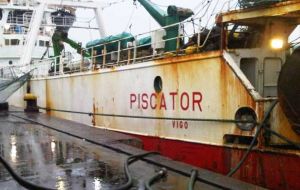 The Spanish government believes an "error of appreciation" was committed in the incident involving the Galician trawler "Piscator" captured this week in the South Atlantic allegedly operating in Argentine waters. Spain is hopeful that the situation will be resolved in "coming hours".
However the view from the Argentine authorities reflected in the Patagonian Puerto Madryn media, where the "Piscator" was escorted and remains docked since midday Thursday does not sound that encouraging.
Not long after docking members of the Argentine Coast Guard involved in the high seas arrest together with representatives from the company owner of the trawler, Pesquera de Bon as well as Spanish consular staff visited the vessel.
The captain, crew and consular representatives felt supported by the announcement from the Spanish government Seas Secretariat which confirmed that the 'Piscator' at all time was sailing and catching in international waters.
"We believe an error of appreciation has been committed, since the vessel was sailing eight miles from the line that marks Argentina's Exclusive Economic Zone, EEZ", said the Spanish high seas monitoring office, which trusts that "in coming hours the situation will be resolved".
"The confirmation from the Seas Secretariat corroborates what crew members have stated all along which is that 'Piscator' was operating in international waters and we trust we can clear up the situation when we meet the Argentine Coast Guard", according to Pesqueras de Bon representatives.
"Argentine treatment of the captain and crew members has been excellent and at all moment we have expressed our desire to collaborate into the investigation of the incident", said the company's representatives.
'Piscator' captain Juan Carlos Fandiño Martinez was questioned for several hours and Coast Guard officers were planning to gather information from the vessel at the moment of the incident "to have a precise idea and contrast it with that from Argentina", added the company's representatives.
However, according to the Puerto Madryn media that quotes unidentified Argentine government sources, the 'Piscator' faces a significant fine and forfeit of the catch in its hold plus "a long legal process".
"The data from the Argentine radar which controls vessels sailing in the EEZ will be contrasted with that from the vessel and must offer unequivocal evidence that it was effectively operating eight miles from the demarcation line", say the local media reports adding that the communication records previous to the arrest of the vessel will also be considered as part of the investigation".
If the Argentine authorities position prevails a 'significant' fine will be imposed on the vessel, and most probably all the fish both on deck in processing and in the holds, over 250 tons, will be seized.
"It's impossible to determine to know whether the fish was caught in Argentine waters", admitted Puerto Madryn officials in charge of the case, to the local media.