Falklands is first team to arrive for the Island Games in Bermuda
Monday, July 8th 2013 - 06:56 UTC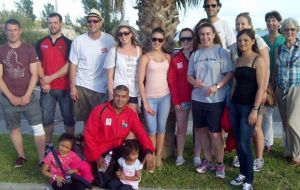 Bermuda welcomed this weekend the first arriving team for the upcoming Island Games, with the Falkland Islands ten-strong badminton team arriving from Gatwick, London, with many of the team having flown from the Falklands to the UK on an RAF flight.
This means the Falklands will be present for the Opening Ceremony scheduled for 12 July.
According to Bermuda News, the Falklands have a population of just under 3,000 residing on their approximately 4,700 square miles located off the coast of South America.
The Falkland Islands team will compete in a variety of disciplines including the 10,000 metres, 800 metres, 1500 metres and 5000 metres, 100 metres, 200 metres, 400 metres, badminton, football, golf, shooting and swimming.
Bermuda officials have said they are expecting close to 2,000 athletes, officials and visiting spectators to arrive for the Games, which get underway on July 13th and will feature sports including badminton, beach volleyball, cycling, football, golf, gymnastics, sailing, squash, swimming, tennis, triathlon and more.

More Information: NatWest Island Games Bermuda 2013