Over a third of Argentine population in poverty conditions says food and nutrition report
Monday, July 8th 2013 - 06:46 UTC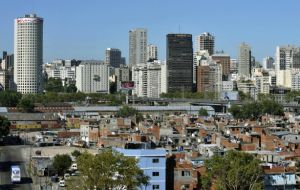 At least 17.8% of the Argentine population lives in indigence conditions, taking as reference a 'Healthy Food Basket' which estimates family monthly needs in 3.700 Pesos which is more that five times the official stats office Indec reference sum of 730 Pesos.
The official exchange rate in Argentina is 5.40 Pesos to the US dollar and in the range of 7.00 Pesos in the parallel market.
It's election time in Argentina, with a mid term vote scheduled for next October, and although the paper was surfaced by two opposition candidates it is based on the findings of the University of Buenos Aires Nutrition School over a period of several years.
Working on these findings, 7.3 million Argentines do not have access to what the Nutrition School considers a 'healthy food basket', which is 6.6 million more than the official Indec data. Furthermore the numbers of poor people who do not feed according to the 'healthy basket' add up to 15.6 million which works out at approximately 37.9% of an Argentine population estimated in 40 million.
Likewise based on the latest cost of living stats, (inflation), the report also shows that the cost of purchasing a healthy food basket is 303% dearer than the one estimated by Indec in indigence conditions and 217% for those living in poverty conditions.
Additionally in the first half of the current year the cost of a healthy food basket has soared 34% while incomes have increased 25%.
The political conclusion of this (opposition) reading is that "if our objective is to have no household below the indigence and poverty lines despite the growth experience by Argentina in the last decade, then we can say that the country is far from having achieved a reasonable situation".
"If we are talking of having a healthy nutrition, the poor and indigent in Argentina are far more than those that the 'Kirchnerite revolution' admits".
According to the questioned figures from the Indec stats office, the percentage of poor people in Argentina is 6.5% which means less than 2.7% while indigence extends to 1.7% equivalent to 700.000 persons, which contrasts with the 15.6 million or 37.9% of Argentine population that do not have access to what is considered a basic 'healthy food basket'.