OAS condemns Morales plane incident and urges EU countries involved to apologize
Wednesday, July 10th 2013 - 06:05 UTC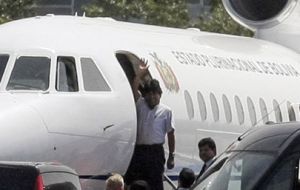 The Organization of American States Permanent Council (OAS) adopted on Tuesday a resolution expressing solidarity with President of Bolivia Evo Morales whose official aircraft last July 2 was delayed because of air space pass-by denial in Europe and urged the European countries involved to provide explanations and apologies.
The text, adopted by consensus in a special meeting of the Council convened at the request of Bolivia, Ecuador, Nicaragua and Venezuela, resolves "to condemn actions that violated basic rules and principles of international law such as the inviolability of Heads of State," and "to strongly call upon the governments of France, Portugal, Italy and Spain to provide the necessary explanations and apologies about the events involving the President of the Plurinational State of Bolivia, Evo Morales, as well as the corresponding apologies".
Moreover, the resolution reaffirms the "full validity of the principles, rules, and international customs governing diplomatic relations among states," and calls on the parties involved to "continue respectful and constructive dialogue, under the rules of international law and the mechanisms for the peaceful settlement of disputes." The text includes footnotes from the United States and Canada.
During the special meeting, the Secretary General of the OAS, José Miguel Insulza, said he feels "a great indignation and immense solidarity in response to the aggression suffered by a leader of Latin America and the Caribbean. What happened on July 2 cannot be qualified as a commonplace incident. It is a serious offence to a democratic President of this region".
"It is very clear that this is an event that goes beyond the explanations that have been given here," said the Secretary General. "With all due respect to my European Observer friends, with all the affection that we have for them, there is a serious matter here that has not been clarified".
The incident, said the leader of the hemispheric institution, "leaves a wound" and "the best way to heal that wound, to mend that wound, is to know what really happened, what really took place" continued the Secretary General.
"Where did this news come from that Mr. Snowden was on the plane? Why was it believed?" The best way to clear everything up, he added, "is through transparency".
During the special meeting of the Council, the representatives of Nicaragua, Venezuela, Ecuador, Peru, Brazil, Panama, Mexico, Argentina, Bolivia, Uruguay, Canada, the Dominican Republic, the United States, Colombia, El Salvador and Haiti all took part, as did the Permanent Observers of Italy, Spain, France, Portugal and the European Union.