Spain apologizes to Bolivia for 'any misunderstanding' regarding Morales plane incident
Wednesday, July 10th 2013 - 17:25 UTC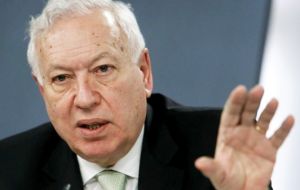 Spain's foreign minister Tuesday offered apologies to Bolivia's Evo Morales for "any misunderstanding" linked to last week's diversion of the Latin American leader's aircraft, but insisted that Madrid never barred the plane from its airspace. Jose Manuel Garcia-Margallo addressed the issue at a breakfast with reporters in Madrid.
His comments came a day after the Bolivian government summoned the Spanish, French and Italian ambassadors in La Paz to demand explanations in connection with Morales' troubled journey back to the Andean nation after attending a conference in Moscow.
The Bolivian presidential aircraft spent 13 hours on the ground in Vienna as Austrian officials searched the plane for former U. intelligence contractor Edward Snowden, who has released documents exposing Washington's pervasive surveillance of global telephonic and Internet communications and has been stuck in the transit area of Moscow's Sheremetyevo International Airport since June 23.
Portugal, France and Italy had earlier barred Morales' plane from their airspace, apparently on suspicion that Snowden was onboard.
"If there is any misunderstanding, I have no problem apologizing to the (Bolivian) president," Garcia-Margallo said.
Madrid immediately authorized Morales' plane to stop for fuel in Spain's Canary Islands once Bolivian Foreign Minister David Choquehuanca provided a written guarantee that Snowden was not aboard the aircraft, Garcia-Margallo said.
"At no time did Spain revoke the flight authorization or the permission to make a stop," the Spanish foreign minister said.
Spain, he said, authorized the landing in the Canaries "based on the word of the Bolivian foreign minister".
"We believe in the word of our Bolivian friends and allies," Spain's top diplomat said.
Asked whether the alert about Snowden's ostensible presence on Morales' plane came from the US, Garcia-Margallo said only that the report reached Madrid from inside Europe.