Maduro pledges his priority as Mercosur chair is the full active return of Paraguay
Friday, July 12th 2013 - 23:00 UTC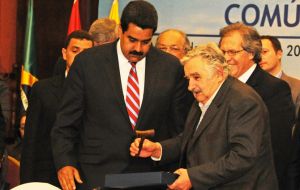 President Nicolas Maduro remembered former leader Hugo Chavez and pledged his main priority as president of Mercosur would be to ensure the quick return of Paraguay to the group. Maduro made the statement on Friday in Montevideo during the ceremony in which he received the official Mercosur presidency gavel from Uruguayan president Jose Mujica which means he will be holding the pro tempore chair for the next six months.
"With the left hand of Chavez and the spirit of Bolivar I declare the summit debate session open", said Maduro making use for the first time of the gavel handed by Mujica who told him 'may God help you'.
"The first priority for Venezuela will be the return to Mercosur as full and active member of Paraguay" said Maduro and added, "all our heart and good faith will be dedicated to the task: we love the Paraguayan people. If there were problems (between Venezuela and Paraguay governments) we're going to dedicate all our best will and efforts to overcome the situation"
"We assume the pro tempore presidency of Mercosur with the commitment to define the strategy, proposals and needs of the block for the next ten years", said Maduro.
Venezuela during its six months at the chair will try "to transcend the trade and economic spheres and include as the axis of its action to build a powerful economic zone, decisively South American and united as a magnet to the Caribbean"
Maduro also revealed that the first time he heard about Mercosur was back in 1994 when Chavez was set free and from jail and told his aids "we must learn, observe and understand Mercosur, which at the time was just taking off".
Venezuela is the last incorporation to Mercosur and is the first time it holds the group's presidency a much disputed decision by Paraguay which remains suspended since June 2012. At the time Fernando Lugo was removed from office by the Paraguayan Senate following impeachment and replaced by Federico Franco.
The other three members, Argentina, Brazil and Uruguay said the removal of Lugo was a 'congressional coup' and suspended Paraguay from the group until new presidential elections, but at the same time approved the incorporation of Venezuela which was pending approval from the Paraguayan Senate that refused to vote on the issue. The Paraguayan Senate considered Chavez a 'non democratic' leader because of his attacks on the media and the political opposition.
Earlier in the day Uruguay confirmed the return of Paraguay as full active member next August 15, when president-elect Horacio Cartes takes office. However Paraguay had anticipated that if Venezuela holds the presidency of Mercosur, it is not interested in returning.