"Mercosur has closed its doors to Paraguay", reacts Asuncion to the Venezuelan presidency of the group
Saturday, July 13th 2013 - 02:24 UTC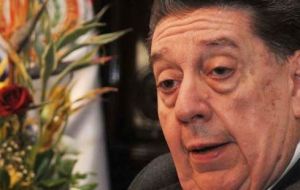 "Mercosur has closed its doors to Paraguay and it's not good for Latinamerican integration", was the first reaction from Asuncion after the group announced the presidency for Venezuela and lifting the suspension of Paraguay next 15 August.
The heads of Mercosur on giving the presidency to Venezuela "do not acknowledge democracy in Paraguay and delay the lifting of suspension until 15 August, as if there were was a problem here in our country", claimed Foreign minister Jose Felix Fernandez reacting to Mercosur summit on Friday in Montevideo.
"From the point of view of Latinamerican integration it's not good news, it closes the doors on Paraguay" underlined the Paraguayan official.
Venezuelan president Nicolas Maduro became on Friday pro tempore president of Mercosur (Argentina, Brazil and Uruguay) during the Montevideo summit in which it was simultaneously announced that Paraguay would return as full active member next 15 August when president-elect Horacio Cartes is scheduled to take office.
Fernandez complained Mercosur leaders did not even accept the generous proposal from the president-elect of Paraguay who had asked his peers to declare a recess at the Montevideo summit until 15 August and that the pro tempore presidency be then extended to Paraguay.
Cartes argued that the pro tempore presidency should be offered to Paraguay in respect for the country's dignity and compliance with international law and Mercosur and Paraguay institutions.
"It was probably a non reflexive momentary decision from Mercosur leaders", said Fernandez who added that there still is a major 'juridical obstacle' and that is the fact that the Paraguayan Senate "never approved the incorporation of Venezuela".
Venezuela became full member of Venezuela in July 2012, following a decision from Argentina, Brazil and Uruguay, while Paraguay was suspended. Under the Mercosur charter all incorporations must be unanimous and with the attendance of all members, which the Paraguayan government alleges this did not happen.
"It will be up to the next administration to decide on the return of Paraguay to Mercosur and at a moment of prudence and in accordance with our country's interests", anticipated the Paraguayan minister.
"Currently there are no favourable solutions for the attendance of Paraguay to Mercosur", added Fernandez.
Maduro on taking the presidency of Mercosur said that his 'first priority' is the return of Paraguay as full and active member to the group.