US Congress members write to Kerry calling for sanctions on Argentina for ties with Iran
Monday, July 15th 2013 - 15:33 UTC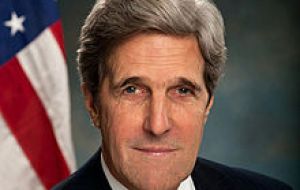 Members of the United States Congress have sent letters to Secretary of State John Kerry and US Attorney-General Eric Holder calling for the sanctioning of Argentina for its ties with Iran.
The letters note that the two countries have improved economic and diplomatic ties substantially over recent years, with exports from Argentina to Iran increasing over 1,000% since 2008, and the two nations recently agreeing to resolve a dispute over the bombing of a Jewish community center in Buenos Aires in 1994. Iran was implicated in the attack that killed 85.
"We find it extremely troubling that Argentina would be aiding and abetting any process designed to allow Iranian senior officials to rewrite history and disavow the findings from extensive judicial investigations and indictment of senior officials for their role in the 1994 AMIA bombings," said the July 10 letter to Kerry.
At a hearing on the matter Tuesday 9 July in the Republican- controlled House Subcommittee on Oversight and Management Efficiency, testimony from experts pushed back against a recent US State Department report that "Iranian influence in Latin America and the Caribbean is waning," and that the Islamic Republic is not actively facilitating terrorist cells in the region.
One expert alleged that Iranian agents have been granted access to Latin American Free Trade Zones through Argentine channels.
Officials noted that Iran has also opened a chamber of commerce to work in coordination with the Argentine government in Buenos Aires.
House Republicans accused Argentina of not allowing one of their invited witnesses – Alberto Nisman, the special prosecutor in the 1994 bombing – to travel to Washington to testify for the hearing.
In the 500-page document Nisman paints a picture of Iran and Hezbollah's vast network of sleeper cells in Latinamerica conducting "activities you wouldn't imagine" or waiting indefinitely to receive an order to attack, the prosecutor told reporters when he unveiled his report in late May.
Nisman first accused Iran and Hezbollah of being behind the terrorist attack several years ago. But his new report details the infiltration of several Latin American countries through intricate intelligence networks and stresses that the AMIA bombing was just one cog in a greater plan: "a segment in a larger sequence".
The Argentine prosecutor claims Iran is "infiltrating" Latin American countries to"sponsor, foster and execute terrorist attacks".
When Nisman's report was made public, the Iranian news agency IRNA, said that "due prosecutor's background and Zionist character, we won't consider his statements important".
The Iranian government considers Israel a "Zionist entity" (as well as the United States) and ignores its existence. Not only that: it believes it must "disappear from the face of the Earth" as President Mahmoud Ahmadinejad has said.
No State Department officials were called by the Congressional committee to testify at the hearing.