Argentina has dealt a 'mortal blow' to Mercosur that has become 'a political forum'
Tuesday, July 16th 2013 - 17:10 UTC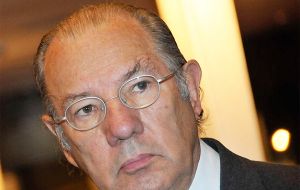 Speaking for a Brazilian business association in Sao Paulo, Rubén Barbosa accused the government of Argentina of dealing a 'mortal blow' to Mercosur, the regional grouping that was originally focused on economic integration and has since become a political forum for the region's leaders as was again evident during the last summit in Montevideo.
"Over the last few months" said Barbosa; "there were measures adopted that killed Mercosur. Argentina is responsible for putting an end to Mercosur" insisted Barbosa, who is currently the president of the foreign trade council from the powerful Sao Paulo Industrial Federation, FIESP.
According to Barbosa, "Mercosur today, as an instrument of commercial policy, is done. It doesn't serve to open up trade, having become a political forum. What we have seen is the judgement on Paraguay and the entry of Venezuela without negotiation or accord".
The former Brazilian diplomat and ambassador in Washington also denounced restrictions imposed by Argentina, while also referring barriers certain Argentine products (e.g. wine, grapes, citrus products, and medications) encounter in entering the Brazilian market.
"The Asunción founding treaty or Mercosur had opened up trade between the member countries, but the current situation, is quite the opposite".