Bolivia violated military aircraft immunity, claims Brazilian Ministry of Defence
Wednesday, July 17th 2013 - 07:31 UTC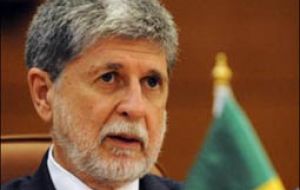 Bolivia violated the immunity of a Brazilian Air Force plane which in October 2011 was carrying Defence minister Celso Amorim and with no search warrant proceeded to inspect the aircraft suspecting opposition Senator Roger Pinto might be on board, claimed Brazilian authorities.
"In the second half of 2011 there were actions by Bolivian authorities which conform violations of the immunity of Brazilian Air Force aircraft, one of them with the plane carrying the minister of Defence in an official visit to La Paz at the end of October 2011", pointed out a Tuesday release from the Brazilian Defence ministry.
According to media reports from the time, Bolivian authorities suspected that the military aircraft had on board opposition Senator Roger Pinto, who had taken refuge in the Brazilian embassy in La Paz for over 13 months. However the Ministry of Defence did not reveal the motive of the search.
"The Brazilian ministry of Defence never authorized the search" and Brazil sent a formal protest to the Bolivian Foreign ministry through its embassy in La Paz, adds the release.
"In that document the embassy told the Bolivian ministry that a repeat of such abusive procedures would lead Brazil to apply the principle of reciprocity, but since the letter was sent, the Brazilian Air Force did not suffer any similar search incidents with its aircraft by Bolivian authorities", adds the release.
Brazilian Foreign minister Antonio Patriota addressed the issue during a meeting with foreign correspondents and said he had been in contact with the ministry of Defence to have more details of what exactly happened, but "I can anticipate it refers to an incident that happened in October 2011, well before Brazil granted Senator Pinto political asylum".
On Tuesday the Sao Paulo newspaper Valor Economico published about the incident but dated October 2012 and in the city of Santa Cruz de La Sierra, when the Brazilian Air Force plane carrying the defence minister was searched by the police including trained sniff dogs.
However the ministry pointed out it happened October 2011, and not in 2012, when Pinto had already taken refuge at the Brazilian embassy in La Paz.
Opposition Senator Pinto in the embassy since 28 May 2012 claims he is victim of political persecution for having accused the government of president Evo Morales of involvement in corruption and association with drug rings.
The news of the 2011 incident surfaces when Bolivia and other South American countries have expressed solidarity with president Evo Morales whose plane was delayed and impeded for several hours from over flying and landing in several European countries including Spain, Italy, Portugal and France.
Apparently there were intelligence reports that Morales presidential aircraft could have US 'leaker' Edward Snowden on board, since Bolivia was one of many countries willing to grant the former NSA analyst political asylum and the plane had left Moscow. Snowden remained stranded in the Moscow airport.