Polar blast covers 80 towns of southern sunny Brazil with snow
Friday, July 26th 2013 - 04:39 UTC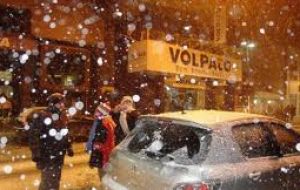 A severe cold front dumped snow on more than 80 towns in southern Brazil and leaving one dead, local weather forecast reported. In Argentina, six people were reported dead.
According to the National Meteorology Institute, 87 towns in all three of Brazil's southern states saw snow and freezing rain late Monday and early Tuesday, with temperatures dipping below zero. Some towns registered temperature as low as minus 7 degrees Celsius.
It was the first time that it snowed in Florianopolis, capital of the Santa Catarina state, where a homeless person died. The city, together with some others, declared a state of emergency. Curitiba, capital of the state of Parana reported snow after 38 years.
Snow is rare in Brazil, falling only in a handful of towns in the mountainous areas. The temperatures, at this time of the year, in southern Brazil usually reach 0C, however -4 Celsius was common in several of the towns where it snowed.
Due to high risk of accidents, classes were suspended in the affected states, and several federal and state highways were closed.
The polar air blasting along the Atlantic coast has also pushed temperatures down in other regions of Brazil and is expected to last until the end of the week, according to weather forecast.
In Buenos Aires temperatures on Monday and Tuesday night dropped as low as 1.6C, while in parts of the provinces of Jujuy and Mendoza, locals shivered in temperatures of -10°C.
In Sierra de la Ventana, in the south of the Buenos Aires Province, the snow was so heavy that roads were forced to close. In Bernardo de Irigoyen, the northern Argentine state of Misiones next to Paraguay and Brazil, snow was reported.
In Boa Vista, near the border with Venezuela, temperatures struggled to reach 20 C, which is 5 degrees below average. This is impressive given that Boa Vista is north of the equator.
The cold snap is now easing across the region, with temperatures in Buenos Aires expected to return to the average by Friday.