Cartes declines invitation from Rousseff to attend Pope Francis Sunday mass in Rio
Saturday, July 27th 2013 - 20:21 UTC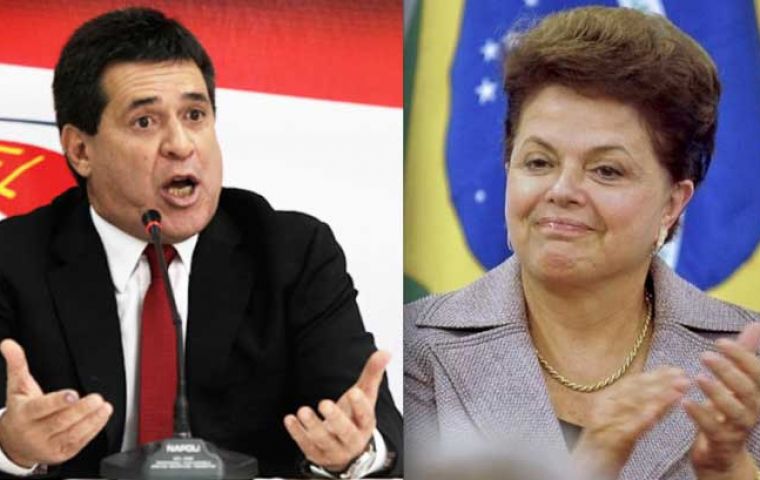 Paraguayan president-elect Horacio Cartes declined a personal invitation from his peer Dilma Rousseff to attend Francis mass on Sunday in Rio do Janeiro, the closing event of the pope's visit to Brazil, according to one of his top foreign policy advisors.
"The president-elected is most grateful for the invitation from President Rousseff but regrets it will not be possible for him to be present since he is president-elect and only takes office next August 15", said Eladio Loizaga.
He added that Cartes really appreciates the gesture from the Brazilian head of state but recalled that over 5.000 young Paraguayans are already in Rio do Janeiro participating in the World Youth Day and thus "Paraguay is more than well represented".
Pope Francis will be heading on Sunday in Copacabana beach the mass that marks the conclusion of the youth event that has mobilized millions in Brazil and tens of thousands from overseas. In this Francis final event over two million people are expected.
So far two Latam presidents, Argentina's Cristina Fernandez and Chile's Sebastián Piñera have confirmed their assistance to the Sunday event. President Rousseff extended an invitation to all of the region's leaders.
Paraguay which remains formally suspended from Mercosur has adopted a strong position demanding that before returning there must be a clear signal from Mercosur of respect for Paraguay's dignity, rule of the law and the group's institutions.
Paraguay argues that the June 2012 suspension is 'illegal' and 'illegitimate' because it ignored the country's constitutional process when former president Fernando Lugo was removed from office by the Senate impeachment and replaced by Federico Franco who will be handing the office to Cartes on August 15.
Furthermore Asuncion claims that Venezuela's incorporation to Mercosur was decided when Paraguay was suspended thus violating the group's charter and Paraguay's Senate negative vote.
During the last Mercosur summit in Montevideo earlier this month, it was decided to lift the suspension pending on Paraguay but effective 15 August and Brazilian Foreign minister Antonio Patriota brushed aside all comments from Cartes regarding the suspension, saying he "will listen to them when he (Cartes) is inaugurated".