Francis speaks openly about the Church's problems during his trip back to Italy
Monday, July 29th 2013 - 21:49 UTC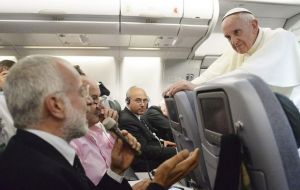 Pope Francis said the troubled Vatican bank must become "honest and transparent" and that he will listen to the advice of a commission he has set up on whether it can be reformed or needs to be shut down altogether.
The pope made his comments, his most detailed to date on the bank's troubles, in his first news conference, a remarkably frank 80-minute meeting with reporters on Sunday night shortly after his plane left Brazil at the end of his first international trip.
"I don't know what will become of the bank. Some say it is better that is a bank, others that it should be a charitable fund and others say close it," he said.
The bank, formally known as the Institute for Works of Religion (IOR), is the target of several investigations by Italian magistrates on suspicion of money laundering.
"We have to find the solution," Francis said. "But whatever the solution, it must have transparency and honesty. That's the way it must be," he said.
Francis said he trusted those working at the IOR and trying to clean it up as well as a five-member commission he set up to advise him on the future of the bank, which has been the source of embarrassment and scandal for the Church for decades.
The comments came as the Vatican confirmed its Financial Information Authority (AIF) had signed a memorandum of understanding with Italian authorities over the exchange of financial information to combat money laundering in line with international standards.
Pope Francis also referred to gay people saying they should not be judged or marginalized and should be integrated into society, but he reaffirmed Church teaching that homosexual acts are a sin.
"If a person is gay and seeks God and has good will, who am I to judge him?" the pope said.
"The Catechism of the Catholic Church explains this very well. It says they should not be marginalized because of this (orientation) but that they must be integrated into society," he said, speaking in Italian.
"The problem is not having this orientation. We must be brothers. The problem is lobbying by this orientation, or lobbies of greedy people, political lobbies, Masonic lobbies, so many lobbies. This is the worse problem," he said.
Francis was answering a question about reports of a "gay lobby" in the Vatican, after it suffered a string of scandals over paedophile priests and corruption in the administration of the Holy See.
"You see a lot written about the gay lobby. I still have not seen anyone in the Vatican with an identity card saying they are gay," he joked.
The pope also said that the "door is closed" on the issue of ordaining women priests. 'Women should have a greater role in the Roman Catholic church" but the Vatican remains firm in its opposition to ordaining women as priests.
He said Pope John Paul rejected the ordination of women "with a formula that was definitive. That door is closed."
On Monday back in Italy Francis tweeted: "I am back home and I assure you that my joy is much greater than my exhaustion!"