The Times comes strongly in support of Gibraltar's wish to be ruled from Britain
Wednesday, July 31st 2013 - 16:34 UTC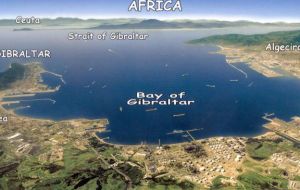 An editorial entitled 'Spain should respect Gibraltarians' wish to be ruled from Britain' The Times on Tuesday sent one of its firmest views expressed in recent decades calling on Spain to form their policies around the concept of consent.
The editorial stated:
"To be made to sit in a car for six hours in searing heat may not be the worst instance of arbitrary power but it is heavy-handed. It is what Spanish border guards have required, with rigorous searches of vehicles, in recent days at the crossing point into Gibraltar. Although the Spanish Foreign Ministry maintains that Spain has the right and obligation to exercise controls, there is little doubt about what sparked them. Gibraltar constructed an artificial reef last week to deter Spanish fishing.
The dispute between Britain and Spain over the sovereignty of Gibraltar is longstanding. It has no immediate prospect of being resolved because Britain has a democratic obligation to the Rock's 30,000 inhabitants. They want Gibraltar to remain a British overseas territory. The British Government should uphold that wish and the Spanish Government should respect it.
Under the Treaty of Utrecht of 1713, the town and harbour of Gibraltar were ceded to Britain "to be held and enjoyed absolutely with all manner of right for ever". No British government would insist on maintaining this provision just for a piece of rock covering two and a half square miles, however. The crucial principle is consent. Gibraltarians do not consent to a transfer of sovereignty.
Spain has every right to seek to persuade the people of Gibraltar of the advantages of such an arrangement. Nor should democratic governments in Madrid be tarnished by the record of the Franco dictatorship, which restricted movement across the frontier with Gibraltar from 1965 to 1968 and then closed it. The Government of Mariano Rajoy, however, is inviting the comparison by its behaviour. It should stop.
As partners in the EU and Nato, Britain and Spain are committed to democratic principles and have common ends. Spain needs to accept that democracy applies to Gibraltar too."