"Not even the Pope could bring Brazil and Paraguay together", said O'Globo
Thursday, August 1st 2013 - 04:09 UTC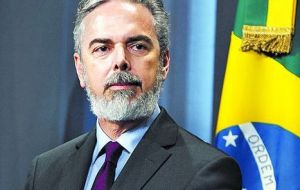 Influential Latin American newspapers have been extremely critical of Brazilian diplomacy in its unsuccessful attempts to 'subdue Paraguay', while at the same praising the landlocked country's dignity in demanding from Mercosur respect and compliance with the rule of the law.
"Not even the Pope could bring Brazil and Paraguay together" wrote Rio do Janeiro's prestigious O'Globo in reference to the excuse from Paraguayan president-elect Horacio Cartes to President Dilma Rousseff for not attending last Sunday's Francis main event in Copacabana beach which assembled an estimated 3 three million people.
O'Globo recalls that the government of President Rousseff, ignoring 143 years of Brazilian diplomatic strategy "decided to subdue Paraguay to political humiliation" when on 22 June 2012 it sent Foreign minister Antonio Patriota to Asuncion with the mission of impeding a vote in the Paraguayan Senate on the impeachment of then president Fernando Lugo.
The vote was cast and the Senate overwhelmingly removed Lugo and replaced him with current President Federico Franco.
"It was an unprecedented defeat of Brazilian diplomacy", underlines O'Globo.
La Nacion from Buenos Aires says that the confirmed attendance of Mercosur presidents to the inauguration of Horacio Cartes next 15 August in Asuncion, "gives Argentina the opportunity to sidestep and offer Paraguay the presidency of Mercosur which takes off on January 2014".
This would mean a change in Argentina's foreign policy attitude of the last eight years, 'unusually aggressive and even coarse towards neighbours and in some way amend a revile situation', points out La Nacion.
"Maybe this way a bridge could be built to rapidly abandon an uncomfortable situation which continues to revile a brotherly country", it adds.
"Dignity has a name: Paraguay", is the heading of a column from Jose Maria Penabad from Costa Rica's La Nacion. The column says that Paraguay has not fallen into the Bolivarian game-trap because "decency is the emblem of its honesty".
"Out of decorum Paraguay is not saying 'no' to the current Mercosur, a portrait of cohabitation vices and disrespectful democratic games", underlined the Costa Rican columnist.
Finally Benjamin Fernandez Bogado writing for Ecuador's main daily El Comercio points out to the hypocrisy of some regional governments condemning Untied States and European countries' intromission but "forgetting what they did to Paraguay which was sanctioned for complying with the country's Constitution and laws".
In June 2012 following the removal of Lugo, Mercosur and Unsaur ignored the Senate vote and suspended Paraguay from the regional organizations until new presidential elections. But at the same time ignoring the Mercosur charter decided to incorporate as full member Venezuela which had been in suspense since 2006 because or Paraguay's refusal to accept former president Hugo Chavez.
In Mercosur last's summit in Montevideo, the presidents decided to lift the suspension of Paraguay, effective 15 August when Cartes is inaugurated. The Mercosur presidency was given to Venezuela's Nicolas Maduro. This explains why Cartes declined to accept President Rousseff's invitation to Francis mass.