Argentines capable of 'eluding the Pope and the UN in getting dollars out of their country'
Friday, August 2nd 2013 - 04:17 UTC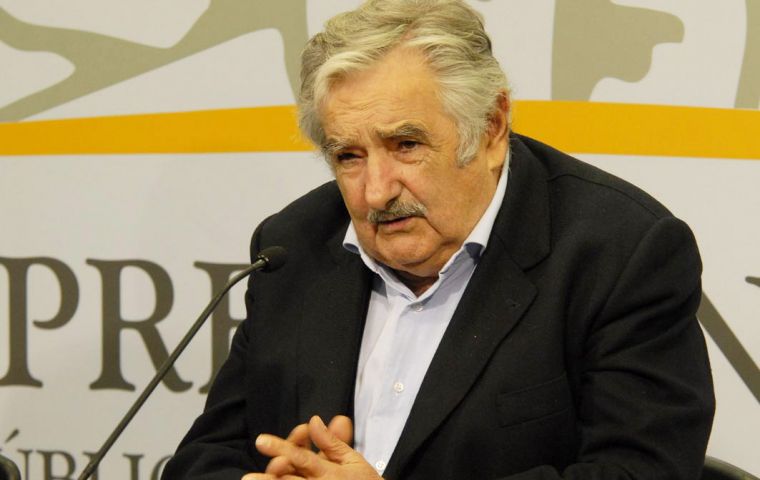 Uruguay president José 'Pepe' Mujica was again ironic in praising Argentines when he stated that the Argentine population "is capable of eluding the Pope and even the United Nations" in their quest to buy US dollars and get them out of the country, in spite of current exchange controls.
"Argentine governments are forever inventing mechanisms to avoid the loss of dollars, but the Argentines are amazing champs at that. They are capable of eluding the Pope, the United Nations, their government and us as well" Mujica was quoted on the weekly magazine Busqueda.
Mujica also addressed the economic relations of his government with President Cristina Fernandez and stated that although Brazil is Uruguay's main trading partner "those who spend the most money in Uruguay are the Argentines even when many fools don't see it that way or don't want to see it that way"
"I'm not talking in trade terms between two countries since this has been particularly difficult with Cristina, but rather to real estate investments of Argentines all along our coastline which has been very high and continues to be very significant" for Uruguay.
Mujica admitted that in spite of high land prices in Uruguay that are "completely crazy, Argentines live here because they feel safe" and they like to live in Uruguay.
The Uruguayan leader then mentioned land prices in Nueva Palmira and Carmelo, across from Buenos Aires, where the value of a hectare is "between 40 and 50.000 dollars, complete madness, but they love Uruguay, they feel safe, which is a great boost for us".
Last year when Cristina Fernandez further restricted the purchase of foreign currency, the famous 'dollar clamp', Mujica at the time said that "Argentines were world champs in getting dollars out of their country, because Argentines mistrust their currency", a concept he has been repeating ever since.
Mujica also mentioned that the single airstrip at Carmelo has become the second most important air terminal of Uruguay, (behind Carrasco) because of the Argentines coming over in a fifteen minutes flight.
He added that in few parts of the world was demand for foreign currency so elevated.
"There is no country, besides the United States of course, whose economy and currency is as dollarized as Argentina's".