Uruguay extends another 12 months VAT benefits for foreign tourists
Friday, August 2nd 2013 - 02:29 UTC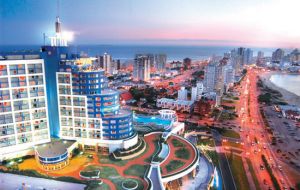 Uruguay extended for another twelve months the VAT bonus for those tourists who pay for purchases, lodging and rents with debit cards. The measure was announced this week by Deputy cabinet chief Diego Canepa following a full ministerial meeting and in anticipation of the coming 2013/14 summer season.
The measure was originally implemented by Uruguayan authorities to counter the 'dollar clamp' and other restrictions imposed by the administration of President Cristina Fernandez to discourage Argentines from going overseas as tourists.
Argentines are almost 75% of all tourists that regularly visit Uruguay, particularly in summer months when they are looking to abandon hyper stressful Buenos Aires and the unorthodox functioning of the Argentine economy, and take refuge in their neighbour's easy going and safe environment.
"The good result of the first experience which was adopted at the end of last year has convinced us to extend those benefits for tourists until July 2014" said Canepa.
"This means that paying for gastronomy, lodging, car rental and other expenses with debit plastic you are entitled to the VAT bonus", added the Uruguayan official.
More specifically the bonus means the elimination of VAT on food, beverage and current expenses and the reimbursement of the 10.5% tax on summer renting, when paying with debit card.
VAT in Uruguay is 23% so the measures can represent a significant savings for families spending time in Uruguay.
Last season foreign cars entering Uruguay as tourists were also given an only time 25 litres of fuel gift.