CFK lectures Security Council: end of veto power and UK must abide Falklands' resolution
Wednesday, August 7th 2013 - 03:16 UTC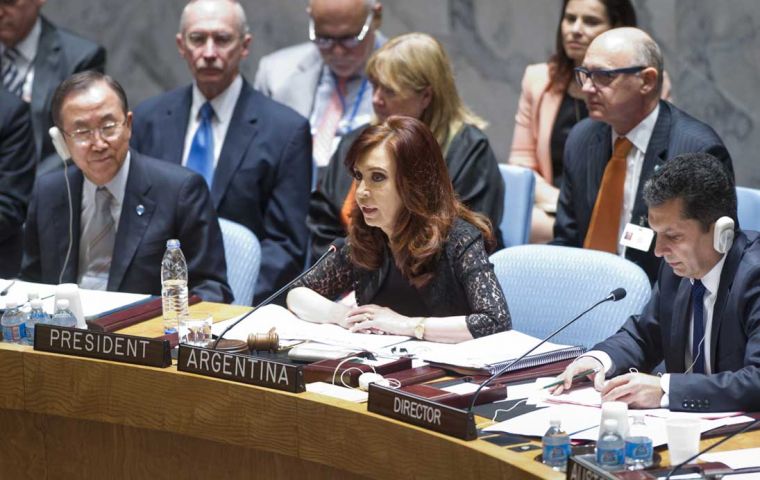 President Cristina Fernandez, CFK, used the opportunity of Argentina at the rotating chair of the United Nations Security Council to demand an end to the veto power of its five permanent members (United States, Russia, China, Britain and France), and criticize the UK refusal to engage in Falkland Islands sovereignty discussions.
Argentina holds the Security Council presidency during August and chose as the issue of Tuesday's high-level meeting "Cooperation between the UN and regional and subregional organizations" which play an increasing role in trying to prevent conflict and restore peace.
It's rare for a head of state to preside over the council, but Cristina Fernandez left her mark: she arrived 25 minutes late to preside over the meeting, keeping UN Secretary-General Ban Ki-moon, fourteen foreign ministers and dozens of diplomats cooling their heels and chatting.
"All member states must abide UN resolutions, seems obvious, but it's not so", said the Argentine president adding that "some of those who sit here with a right to veto, use that card to block the resolution of conflicts".
She then compared the situation with South American regional and subregional organizations where resolutions are taken on the basis of unanimity when there is a conflict, and named specifically the Union of South American Nations (Unasur) and the Community of Latam and Caribbean States (Celac).
Cristina Fernández pointed out the role played by Unasur in settling the 2008 crisis between Ecuador and Colombia and also in preventing regional conflicts that jeopardize South American democracies.
Cristina Fernandez said the veto was a safeguard during the Cold War to prevent "nuclear holocaust", but today the United States and Russia sit at the same table "and we can't deal with the problems in this new world with old instruments and old methods."
The Argentine president strongly supported the Arab League's U.N. observer Ahmed Fathalla who said all 193 U.N. member states must implement U.N. resolutions. This is "the crux of resolving conflicts and central to the effectiveness of the Security Council in settling different matters" she said.
Cristina Fernandez cited the Palestinian conflict and the resolution calling for British-Argentine talks on the disputed Falklands, which Argentina claims Britain has illegally occupied since 1833.
"We call on the UK to respect UN Resolution 2065 which calls on the British to sit and discuss the Malvinas sovereignty. My country and the UK must engage in negotiations of the Islands sovereignty. This isn't a caprice posture, it's not a question of saying we are right, we want the UN resolution to be complied and discuss a controversial and litigant issue".
"We can have discordant opinions on a resolution outside the UN but if the resolution comes from inside, all members have to be prepared to comply with it", insisted Cristina Fernandez.
Newly-installed US Ambassador Samantha Power, making her debut at the council, did not comment on the sensitive veto issue and kept distance from the Falklands' dispute. She did say regional organizations are essential to preventing mass atrocities.
Following the morning debate Cristina Fernandez called for a lunch recess and toasted to human rights and social inclusion. "If we can manage that citizens have access to healthcare, jobs, education and housing, we're going to have more peace, which is a social concept, not only military".
In the afternoon many speakers from Latin America expressed serious concern at reports by NSA leaker Edward Snowden that a US spy program is widely targeting data in emails and telephone calls across Latin America.
Cristina Fernandez said she discussed with secretary-general Ban Ki-moon "the needs to establish regulations of a global nature to ensure and protect sovereignty of states and privacy of citizens in the world."
Brazil's Foreign Minister Antonio Patriota said South American ministers were united in condemning the alleged spying.
Patriota also expressed concern that historically the North Atlantic Treaty Organization, NATO, and its member countries "have considered that the organization does not necessarily require explicit authorization from the Security Council to resort to coercion".
Cristina Fernandez then criticized those who believe "peace and security go hand in hand only with arms" and underlined that "democratic societies and in peace are the ones that really build and consolidate values".
Ban Ki-moon said that regional organizations must find ways to expand their cooperation and dialogue to address increasingly interconnected global challenges.
"Regional and sub-regional organizations have deep knowledge, unique insights and strong local networks. These elements are critical for mediation, planning a peacekeeping operation or helping a country to build lasting peace" Ban told the Security Council meeting.
"We are better at sharing information and analysis on brewing crises, but we have to work harder on swift response and long-term prevention," he noted. "Only through cooperation will we meet our shared aspirations for a more peaceful world.
Cuban Foreign minister Bruno Rodriguez, speaking for Celac said that Latinamerica is an example of "equilibrium between the unity and diversity" of its peoples and "the commitment to the construction of an international order which is more harmonious".
"It is time for our region to participate in the equilibrium of the world with all the weight of its 600 million inhabitants", said Rodriguez adding that for long term stability and preventing conflicts, "it is necessary to strengthen the strategic, integral and coordinated presence of the UN in the field".
Speaking for Unasur, Peruvian Foreign minister Eda Rivas recalled the 'significant role' displayed by the regional organization in the prevention of conflicts and solving controversies, such was the case between Colombia and Venezuela in 2010, and later the crises in Bolivia and Ecuador.
Ms Rivas concluded by saying that "the invitation extended by the UN Security Council to Unasur is an acknowledgement of the task displayed by the regional organization which seeks to establish a close cooperation with the UN and a fluid exchange with the Security Council".