China warns of Japanese 'remilitarization' following the incorporation of a 'quasi-aircraft carrier'
Wednesday, August 7th 2013 - 17:36 UTC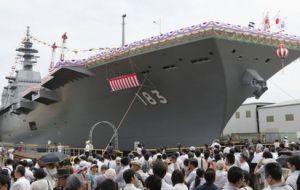 Media in China are warning against Japan's "remilitarisation" after the country unveiled its biggest warship since World War II on Tuesday. The huge Japanese flat-top destroyer, Izumo, has a flight deck nearly 250m long and can reportedly carry more than nine helicopters.
The Liberation Army Daily and many Chinese military experts are calling the new-generation 22DDH helicopter carrier a "quasi-aircraft carrier" in disguise. They believe that it could be refitted to support fighter jets if Japan's post-war pacifist constitution is changed in the future.
The vessel is also raising eyebrows in China Daily since it is the "same name as the flagship of the Japanese fleet that invaded China in the 1930s".
"This is yet another 'edge ball' played by the Japanese government... China can only respond to 'Izumo', this light aircraft carrier dressed as an 'escort vessel', by developing a real aircraft carrier," stresses the Global Times.
Despite Japanese Prime Minister Shinzo Abe's decision not to visit the Yasukuni Shrine on 15 August - the day of Japan's surrender in World War II - some media criticise him for not stopping politicians from paying visits.
The Tokyo shrine honours Japan's war dead, including military leaders convicted of war crimes in WWII.
"Japanese politicians should lay the 'ghost worship' farce to rest! 15 August is the anniversary of the people of Asia getting rid of the ravages of Japanese militarism," says the People's Daily.
Japanese officials say it will be used for national defence and will enhance the Japan's ability to transport personnel and supplies in response to large-scale natural disasters, such as the devastating earthquake and tsunami in 2011.
Although work on Izumo has been ongoing since 2009, its unveiling comes as Japan and China are locked in a dispute over several small islands located between southern Japan and Taiwan. Vessels from both countries have been conducting patrols around the islands, called the Senkaku in Japan and the Diaoyutai in China.
Tension over the issue along with China's heavy spending on defence and military modernisation has heightened calls in Japan for its naval and air forces to be strengthened.
China recently began operating a refurbished Russian aircraft carrier - and is also reportedly moving forward with the construction of another that is domestically built.
Technically the Izumo is a destroyer, but some experts believe the new Japanese ship could potentially be used to launch fighter jets or other aircraft that have the ability to take off vertically.