Falklands sends support message to Gibraltar; Cameron on the phone with Rajoy
Wednesday, August 7th 2013 - 13:55 UTC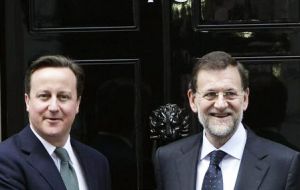 The Falkland Islands sent on Wednesday a support message to Chief Minister Fabian Picardo and the people of Gibraltar which is under strong pressure and threats from Spain over border crossings while from London it was reported that PM David Cameron called Spanish PM Mariano Rajoy to raise concerns about the escalation of the situation.
"On behalf of the people and Government of the Falkland Islands, I would like to say how concerned we are to learn of the rising tensions between yourselves and Spain", says the letter sent by Member of the Legislative Assembly, Ian Hansen.
"We are pleased to hear the strong messages from the British Government in support of Gibraltar and would like to echo those sentiments. We hope that the situation does not escalate and that a swift resolution to the current crisis can be found.
"We send our warm good wishes to our friends in Gibraltar and wish to let them know that we are thinking of them during this difficult time."
In London a 10 Downing Street spokesperson said that Prime Minister David Cameron has called the Spanish PM Mariano Rajoy to raise his concerns about the situation at the Gibraltan border.
"The Prime Minister called the Spanish Prime Minister, Mariano Rajoy, this morning to raise serious concerns about actions by the Spanish at the border with Gibraltar and suggestions from Spanish Foreign Minister Jose Garcia-Margallo that they may introduce further measures", said the spokesperson.
"The PM made clear that our position on the sovereignty of Gibraltar and its surrounding waters will not change. He also reiterated, as the PM and Mr. Rajoy had previously agreed that the issue should not damage our bilateral relations. However there was a real risk of this happening unless the situation at the border improved.
"Mr Rajoy agreed that he did not want the issue to become an obstacle in the bilateral relations and that we needed to find a way to de-escalate the issue. As a next step, the Foreign Secretary should speak to Mr. Garcia-Margallo to discuss a way forward.
"In the meantime, Prime Minister Rajoy committed to reducing measures at the border. Both leaders agreed that there should be a solution to the fishing dispute."
For his part PM Rajoy said the call had been 10 minutes and requested yesterday (Monday) by UK. PM Rajoy noted the relationship with UK as one between allies and partners and said that differences had to be dealt with "honestly and transparently."
He committed himself to look for a solution to the current situation "created by the Gibraltar authorities" and which had created great "discontent" in Spain.
He declared the "unilateral" dropping of the cement reef blocks as "unacceptable". La Moncloa also said that the Spanish and UK foreign ministers will make contact immediately to discuss their differences.