Port facilities in Santos and the state of Para will be auctioned next November
Sunday, August 11th 2013 - 22:06 UTC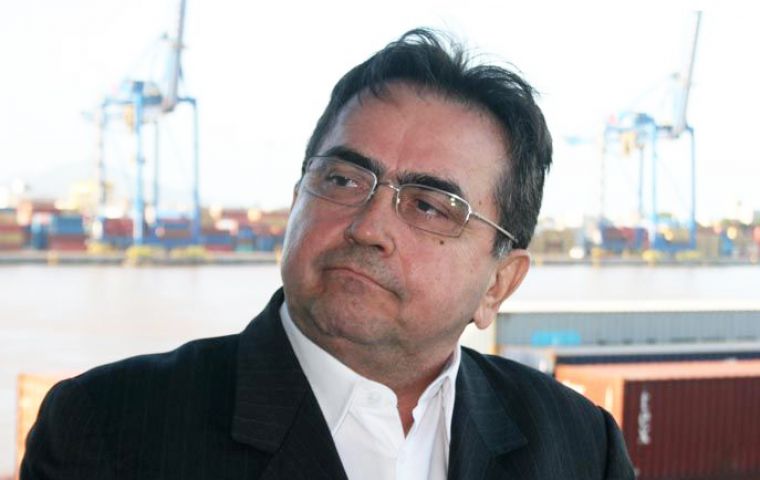 Brazil's government is expecting 3 billion Brazilian Reais (1.3 billion dollars) in new investments with the leasing of facilities at its ports in the states of Para and Santos, Sao Paulo, said government officials.
The government announced it planned to offer 30 new areas for investment at the locations, expanding and modernizing terminal facilities.
"We want more cargo and cheaper and faster operations." said Ports Minister Leonidas Cristino.
The facilities are scheduled to be auctioned for lease on Nov. 25. The government is expecting some 1.6 billion Reais in investments at 20 facilities in the state of Para, and 1.4 billion Reais in investments at 11 facilities in Santos.
With the leases, the government seeks expansion of port operations for grains, fertilizers, containers, cellulose and liquids.
Ports minister Cristino said the government would also focus on expanding railroad access to the port terminals. "We want the larger amount of capacity to be met by trains to reduce problems with truck traffic," he said.
In all, the new investments should increase the ports' cargo capacity by 48 million tons annually.
Brazilian presidential chief of staff Gleisi Hoffman, also present at the announcement, said the leasing contracts would include a reference rate of return of 7%.
"The rate of return should be around 7%, but it could be much more than that if the conditions of the contracts are adequately met," she said.
Financing terms for the investments will be set at Brazil's TJLP long-term interest rate plus 2.5 percentage points, over a period of 20 years.