Cristina Fernandez defeated in Argentina's main electoral districts; Massa pledges 'end to confrontation'
Monday, August 12th 2013 - 01:24 UTC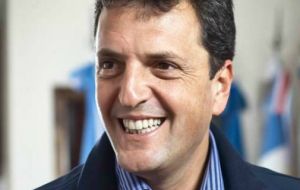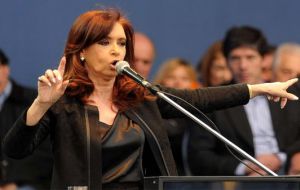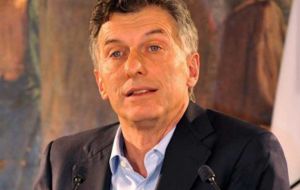 President Cristina Fernandez Victory Front managed to remain as the leading political force nationwide on Sunday's congressional primaries but her opponents emerged exceptionally strong in the all-important province of Buenos Aires and the other main districts of the country, to the extent that some political analysts anticipate the beginning of the end of the ten years of Kirchnerism.
The Sunday open, simultaneous and mandatory primaries really turned out to be a test of support for Cristina Fernandez, and her last two years in office, and anticipate a major setback in October's mid term election when half the Lower House seats and a third of the Senate has to be renewed.
In a late midnight speech, the Argentine president congratulated the Argentine people for their turnout (almost 80%) and all those who participated but only mentioning the names of her candidates which she openly supported campaigning and with all the resources of government ignoring election rules.
But the fact is that in the province of Buenos Aires, which represents 37% of the country's electorate and is decisive for any legislative or Executive election, her head candidate Martin Insaurralde was clearly defeated by a former cabinet chief and mayor of Tigre Sergio Massa, who was leading by six percentage points.
"People want solutions for insecurity, inflation and unfair taxing; they want an end to confrontation, an end to constitutional reform to tampering with the Judiciary", said the head of the Front for the Reform, who also thanked those who did not vote for him "because this means we will work to convince you by next October".
Likewise in the other main electoral districts of Argentina, the city of Buenos Aires, Cordoba, Santa Fe and Mendoza, Cristina Fernandez Victory Front was bashed and so it happened in the province of Santa Cruz, where her deceased husband Nestor Kirchner and she started their meteoric career in politics. Her Victory Front figured third.
In the city of Buenos Aires conservative mayor Mauricio Macri confirmed his leadership with his candidates for Senator and the Lower House, while a centre left group, adding up all its votes and thinking in October could leave the Victory Front with no Senator and a minimum expression of Deputies.
The Victory Front and/or its provincial allies were winning in most provinces which depend highly on federal funds.
Massa, 41, who started his Front for Reform forty days before the primaries and who is known to have presidential aspirations for 2015, in effect sounded more like a presidential candidate than a campaigner for the house of deputies in his victory speech.
Massa invited people from all over Argentina's polarized political landscape to join him in a new movement that would rule from the centre, build coalitions and protect the middle class a group he said had been neglected by the current government.
"We have to think of the future. We have to learn to stop looking at the past as a way to build a future for all Argentines," Massa said. "We feel proud that the path we have chosen is one of unity in diversity as is preached by Pope Francis, of coming together without aggression...the people who have joined us are saying 'enough with confrontation in Argentina"
"Today we have planted a seed of a great tree for the province of Buenos Aires, for Argentina and for the future our children deserve".
Political analysts agree that whoever wins big in October could become a leading candidate in the 2015 race to succeed Cristina Fernandez.
In effect October 27 results could determine whether Cristina Fernandez becomes a lame duck in her last two years. Currently with a divided opposition and no clear leader, the president doesn't need the votes of any opposition lawmakers to provide the quorums she needs to push through legislation or quash investigations.
But if as of next October her opponents firmly control a third of the seats and besides have a clear leader, they could end any chance of changing the constitution to eliminate term limits and keep Cristina Fernandez in office beyond 2015.
Massa who belongs to the Peronist wide spectrum movement which has dominated Argentine politics for seven decades and was briefly cabinet chief of Cristina Fernandez is betting on the middle ground in a polarized country, and his strong showing should have a double effect.
On the one hand he has emerged as a leader capable of challenging Cristina Fernandez power, and as this becomes more evident, and as traditionally happens in Peronism, he will begin to receive allegiances from the rest of the wide ranging party including from among those who are currently considered unconditional Kirchnerites.
But Cristina Fernandez is not expected to remain put and as happened in the 2009 primaries that were also lost she will fight back. At the time with the support of her late husband they doubled the bet and rapidly recovered lost ground to the extent that in 2011 Cristina Fernandez was re-elected by an unprecedented 54% of ballots.
A booming economy and the fact she lost her husband in October 2010 helped.
Admitting that she hadn't received the support of previous elections in some districts, Cristina Fernandez said in her speech she missed 'him' in reference to her late husband and would have liked to have 'him' and his advise next to her, but also emphasized that she is still president and 'the Argentine with most responsibilities'.
But the primaries only confirmed her deteriorating image and drop in popularity amid corruption scandals involving her appointees and close allies, growing discontent over inflation, poor quality public services and what many see as a weakening of the nation's institutions in the face of presidential power.
As an additional factor it must be said that this was also the first election to include 16- and 17-year-olds, a new block of more than a half million voters that Cristina Fernandez in particular has courted.