Timerman meets US Congress members complains about 'anti-Argentina campaign'
Tuesday, August 13th 2013 - 02:19 UTC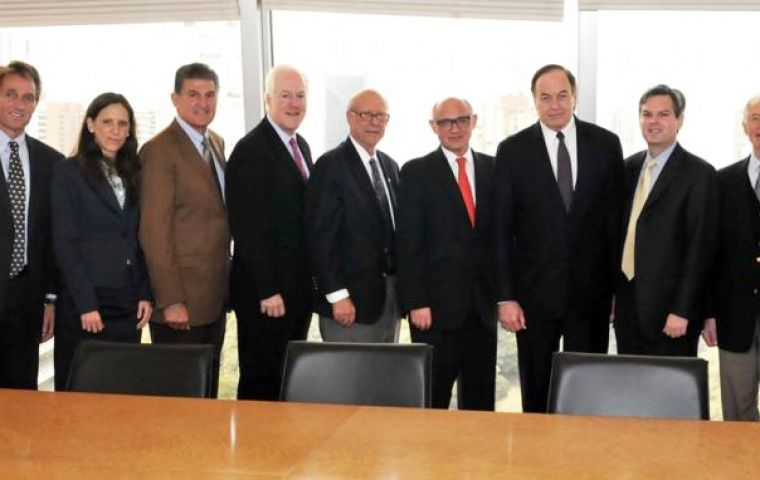 Foreign Minister Hector Timerman strongly criticised an alleged "anti-Argentina campaign" carried out in US Congress by members of hedge funds in litigation with Buenos Aires. Timerman made his case while meeting in his office with visiting members of the US congress.
The Foreign Ministry informed in a Monday statement that "the parties have agreed to keep working together in order to avoid special interests dictating the links between both nations," referring to the financial groups which pursue full payment of Argentine sovereign bonds purchased at rock bottom prices during the default of 2001.
During the meeting, which also included Argentine ambassador to the United State Cecilia Nahón, and the head of International Economic Relations, Augusto Costa, minister Timerman claimed the existence of a concerted campaign against Argentina by the litigating hedge funds through lobbying Congress.
The participants also discussed bilateral cooperation in areas such as science and technology, nuclear energy, combating organized crime, drug cartels and terrorism, and working towards increasing trade between the two nations.
The US delegation of lawmakers included Senator Richard Shelby (Republican, Alabama), Thad Cochran (Republican, Minnesota); Joe Manchin (Democrat, West Virginia); Jeff Flake (Republican, Arizona); John Boozman (Republican, Arkansas); John Cornyn (Republican, Texas) and Pat Roberts (Republican, Kansas) who attended the meeting with Kevin Sullivan US Embassy Chargé d'affairs.