World Cup 2014 exposes Brazil's lack of non-commercial aircraft infrastructure
Friday, August 16th 2013 - 17:42 UTC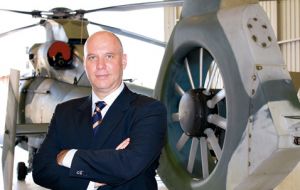 Non-commercial aircraft are expected to carry as many as one in nine international visitors to the World Cup in Brazil next year by some estimates, but industry leaders say the country is unprepared for the oncoming swarm.
Desperately needed new airstrips will not be ready in time for the tournament and air-traffic plans at crowded airports are still unresolved, said executives in Sao Paulo this week for LABACE, the world's second-largest business aviation conference.
"Brazilians are last-minute sprinters. It is part of our culture," said Eduardo Marson, chairman of Brazil's general aviation association ABAG. "The investments are coming much slower than we'd like. It's too late for most of them."
The crunch comes as Brazil races to expand commercial airports already operating beyond capacity, driving up demand for more efficient charter flights, but pushing the necessary infrastructure to the back burner.
That means Brazil, whose fleet of private aircraft is second only to that of the United States, may have to open its military airstrips and hangars in order to accommodate all the jets in town for the 2014 World Cup, Marson said.
Some 3,000 business aircraft will fill Brazil's skies during the tournament, according to the Dubai-based United Aviation Services (UAS), which books charter flights with over 500 private jet operators globally. Privately chartered airliners make up less than 5% of that estimate.
UAS is touting VIP packages for the event at LABACE in the hopes that a healthier world economy will boost demand from the 2010 World Cup in South Africa. Fewer than 8% of visitors to the tournament three years ago opted for private flights over commercial ones, according to UAS, which forecasts the share will rise to 11% in Brazil next year, including charter flights carrying soccer teams, heads of state and corporate delegations.
ABAG's Marson said the UAS estimate may be on the high end of possible scenarios, but he agreed air traffic outside of commercial airlines would outpace any prior event in Brazil. Officials estimate that the World Cup will draw about 600,000 international visitors, spending nearly 7 billion Rais (3bn dollars).
Aviation has deeper roots in Brazil than in South Africa, due to its continental size, growing ranks of millionaires and a long history of flight - from airplane pioneer Alberto Santos Dumont to plane-maker Embraer SA.
But private and public airports like nearly most of Brazil's transportation infrastructure, have suffered from decades of scarce investment, resulting in a lack of runways and hangars to keep up with the booming demand of the past decade.
"In big cities we're seeing major problems. In Sao Paulo and Rio de Janeiro there's almost a blockade of executive aviation services," Civil Aviation Secretary Wellington Moreira Franco told journalists this week.
"Soon that story should be different," promised Franco, highlighting a handful of private initiatives to build new airports around Rio and Sao Paulo, Brazil's two biggest cities.
Those projects were made possible by a recent change to federal rules allowing private investors to build, operate and charge fees at new airports. However, the only such airport expected to open by the start of the World Cup in June 2014 is the Aerovale airstrip outside Sao Jose dos Campos, about 100 km northeast of Sao Paulo.