Malvinas is a Latinamerican cause underlines Argentine Defence minister
Monday, August 19th 2013 - 18:24 UTC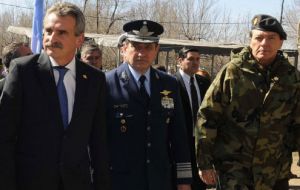 Argentina's defence minister called on the peoples of Latinamerica to defend their natural resources and particularly the Malvinas Islands, 'an ignominious colonial situation' in the XXI century.
"Malvinas is a Latinamerica cause that no longer tolerates an ignominious colonial situation in the XXI century and has become a rallying call for the region to defend its natural resources", said Defence minister Agustin Rossi during an anniversary of the country's national hero and South American liberator, Jose de San Martin.
Rossi said that at other times the most developed countries would raid Latinamerica and its national resources, but "if we unite, together with our Latinamerican brothers, surely Latinamerica will have a more prosperous and fortunate future in accordance with the thinking and legacy of San Martin left us".
Speaking in Mendoza, where San Martin rested after his liberation campaign along the Pacific after crossing the Andes, Rossi headed a massive military and civic parade, and next to officials and students praised the Malvinas veterans.
"The Malvinas veterans remember us of their courage and commitment to a national cause, their utmost sacrifice will be always acknowledged" as was the San Martin army with soldiers from all social backgrounds, who with great courage and honesty embraced the cause of his liberation crusade, underlined Rossi.