Mercosur 'remains a fiction' admits Uruguayan foreign minister
Monday, August 19th 2013 - 13:23 UTC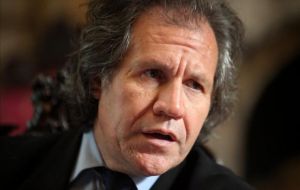 Mercosur as an only market 'remains a fiction' since it is missing the effective implementation and ironing out of trade and macroeconomic reforms, said Uruguayan foreign minister Luis Almagro, who went on to promote "double and triple membership" for Mercosur members.
The minister made the statements during a forum discussion "Integration for Development" organized by Uruguay's Proposal 2030 and Ibero-American secretary general Enrique Iglesias.
"Venezuela is a member of ALBA, (Bolivarian Alliance of the Americas Peoples) and Mercosur; Ecuador belongs to ALBA and the Andean Community and also wants to join Mercosur", pointed out Almagro in support of the Uruguayan government position.
"This weaving of double and triple memberships are positive for the Latinamerican integration convergence", added Almagro, who nevertheless said that the bilateral process with other regional groups "must have the approval of all countries in the customs union block, made up of Argentina, Brazil, Uruguay, Venezuela and Paraguay, which had been temporarily suspended.
Almagro also called for stronger bilateral relations inside Mercosur since "it will help to improve integration with the rest of the other integration processes in Latin-America"
Uruguay has lately and publicly expressed its intention of coming closer to the Pacific Alliance, made up of Chile, Peru, Colombia and Mexico, and with Panama and Costa Rica in the process of incorporation. Uruguay has observer status.
However the Uruguayan decision was strongly criticized at the latest Mercosur summit in Montevideo, where President Cristina Fernandez warned about the 'siren songs' which have an only purpose 'break up the unity of the Mercosur trade block'.
Almagro statements follow on President Jose Mujica comments in his daily radio broadcast when he gave his full support to, Brazil's intention of speeding up negotiations with the European Union for a free trade agreement, even if that means a "two speeds" negotiations.
"Frankly we have decided to support Brazil in negotiations with the EU because that is a variable we have to continue along and beware of the danger of having all interests in a single basket", underlined Mujica.
The Uruguayan president also underlined the significance of China for the region's trade since that is "a huge country, a continent" and it is possible "to reach specific policies that will enable us to reserve some of our sectors from the aggressive competition from China, because of their costs, scale and efficiency".
Finally Mujica said that "you can't bet to an open paddock and likewise to a closed paddock", that is why negotiations exist and that is why talks with China, you simply can't ignore relations with Beijing".