Cristina Fernandez losing her nerve; furiously blasts journalist for exposing her trip to tax-haven Seychelles
Tuesday, August 20th 2013 - 01:50 UTC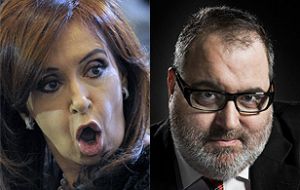 The Argentine government replied furiously on Sunday night to the latest chapter of journalist Jorge Lanata program on corruption in Argentina which so far had exposed top officials and protected businesspeople of the Kirchner couple administrations but on this occasion targeted President Cristina Fernandez and her non disclosed two-day visit last January to the Seychelles islands a renowned tax haven.
Even before the late Sunday program was over Oscar Parrilli, Secretary General of the Executive and one of the closest aides of Cristina Fernandez was calling Lanata and his program a "media hit-man" and an "operation mounted to destabilize the government".
Lanata in his last program visited Seychelles and linked the Indian ocean islands with two Argentine business people, one of them the main public works contractor in Patagonia, who have been involved in money laundering with alleged Argentine government protection.
Seychelles together with Belize and Panama were mentioned by businessman Federico Elaskar as the tax havens used by the public works contractor Lazaro Baez, and apparently was the way to re-introduce money to Argentina via Nevada in the US.
According to the program Journalism for All (Periodismo Para Todos) in Seychelles is based an Argentine firm Adyne, currently under investigation by an Argentine prosecutor and with links to the financing company SGI, at the time also known as "La Rosadita", the diminutive for (Casa) Rosada, where the money laundering operations and dollar exchange operations (banned for other mortals) allegedly took place. The company now operates under the name of Helvetic Services Group, HSG.
However Aldyne is a society that holds 148 companies created in Nevada, US and which according to the prosecutor's investigation, quoted by Lanata, remain under control of Helvetic, the mysterious Swiss fund which purchased La Rosadiata when the cover up of the operations and its regular visitors to the company's offices in the posh Puerto Madero neighbourhood blew up.
President Cristina Fernandez earlier this year, January 21/22 effectively (and unofficially) called at Seychelles when she was on an official tour of Asian countries that included Vietnam. The stop was unaccounted for although it was mentioned in Congress by a lawmaker during the discussion of the recent money 'clearance-bill' which was approved by the dollar-short Cristina Fernandez administration majority to try and convince Argentines to bring their funds back to the country, free of taxes or levies and no questions asked.
When this was aired on Sunday the immediate reaction, even before the program was over, was a twitted communiqué accusing Lanata of 'lies, infamies, insults and fabrications" and calling him a "media hit-man at the service of Hector Magneto and Clarin".
All the fabricated claims are a "hypocritical media show" which delivers nothing "but hate and infamies". "The only thing missing was a search warrant into Nestor Kirchner's mausoleum, but we don't discard that some prosecutor of so called 'independent' judge might order it" said some extracts of the surprisingly aggressive communiqué.
In several consecutive Sunday programs Lanata has been exposing corruption schemes mounted by several of the most trusted Kirchener couple aides, involving money laundering, skimming funds from public works, awarding contracts and bids to friendly business people who in less than ten years have become millionaires.
The deceased Nestor Kirchner passion for vaults and cash money was exposed on several occasions by former aides, political allies and with documents showing for example the purchase of the vaults from the former Rio Gallegos mortgage bank which were auctioned when the bank moved to a new building. According to blueprints they are believed to have been installed in one of the family's mansions in Santa Cruz province. "Nestor needed to feel the money with his hands" said a former political ally.
But this was the first time Cristina Fernandez is mentioned in an active role, calling in a non official visit a tax haven where she spent 48 hours and not 13 as its was immediately twitted. The 48 hours was confirmed in the official Gazette with details of the stops and time. Her Sunday night defenders said the call was to refuel the presidential aircraft. But Seychelles is also where the Adyne, mother of another 148 companies and under investigation, is hosted.
Up until now, besides her passion for jewellery, fancy cloth, shoes and purses it was believed Cristina Fernandez was not part of the oiled scheme organized by her late husband. However the fact she stopped in Seychelles where Adyne one of the 'mother' companies of the network is located, and the furious immediate vociferous insulting reaction, far from excusing her seems to confirm many of the suspicions.
Despite the mass of accusations involving Kirchnerite government officials, friendly businesspeople, Nestor Kirchner and now Cristina, there have been no libel claims against the Lanata program. The government strategy has been to let the issue die by itself since most of the media is in effect under Kirchner control, be it through publicity funds or family friends that have bought television and broadcasting stations and newspapers.
Asked by the government's reaction Lanata said he was surprised at the language and threatening tone, but insists he is a simple journalist doing his job. "I'm no media hit-man, all I have reported has been double checked, in this case is part of the prosecution's investigation. Furthermore I have no intention of destabilizing the government, on the contrary I wish President Cristina Fernandez can end her two years in office and reaffirm Argentine institutions, but as I have said before I'm only asking her to reconsider much of what she has done and decided".
Lanata said Cristina advisors and aides fear her outbursts and worse than that "they believe people are stupid, that they can convince them with communiqués and speeches. No people might take longer to pick something up but they are certainly not stupid. The last primaries show that, people are fed up of the government trying to manipulate judges and prosecutors to cover up all the corruption scandals".
"What is more, in this latest sketch Parrilli is only an errand boy, he wouldn't dare such initiative: the communiqué and all this reaction is pure Cristina", underlined Lanata.