Brazil fuel prices remain unchanged for now…despite growing losses of Petrobras
Thursday, August 22nd 2013 - 23:40 UTC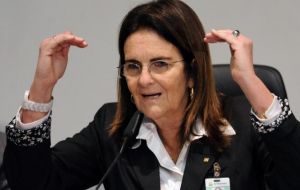 Brazil's President Dilma Rousseff has not yet discussed raising gasoline and diesel prices to support state-run oil producer Petrobras, said her spokesperson in response to local media reports on Thursday.
The statement by Thomas Traumann discouraged hopes of an immediate fuel price increase, although prices for gasoline and diesel were still widely expected to rise in the next few months.
Local newspapers Folha de S. Paulo, Valor Economico and Estado de S. Paulo reported that a decision to raise prices was made on Wednesday, following meetings between Rousseff, Petrobras Chief Executive Maria das Graças Foster, and Finance Minister Guido Mantega, though they said the timing and size of such a move was unknown.
A rapid weakening of Brazil's Real, which has lost 7% against the US dollar this month alone, has hurt Petrobras refining and fuels operations by making imports more expensive and wiping out much of the impact of four hard-won domestic fuel price increases in the last year.
Petrobras imports gasoline to satisfy domestic demand (because of shortage of refining capacity), but sells it at a loss at the government's insistence to help keep inflation at bay. Debt at the company has grown in the face of falling output.
The decision to raise prices was made in order to protect Petrobras' investment-grade rating, Folha reported, adding that the company suggested a staggered series of increases over time as a way to dilute the impact on inflation.
Keeping its rating would be crucial to controlling the cost of Petrobras estimated 101.6 billion dollars in short and long-term debt, Petrobras Chief Financial Officer Almir Barbassa said last week.
Fuel prices in Brazil affect everything from shares in heavily traded commodities firms to inflation dynamics.